Latest News
Two week was the time it took Castlehouse Construction to install the 250m3 box-culvert attenuation tank serving three industrial units at Skelton-in-Cleveland, Teesside.
The Marshalls box culvert attenuation tank was installed under the car park serving the three building materials and tool supplier business. Casltehouse Construction's £7 million contract included construction of the entire retail park area and Marshalls' MC2010 precast concrete box culverts were chosen as the best option for surface water and rainwater attenuation. 32 precast box culverts units were laid in a double run to create the underground attenuation tank. With a Design Life of 120 years, the units would offer a long-lasting solution capable of undertaking various loads from trucks and other HGVs expected to use the car park on a frequent basis.
The attenuation tank was installed in no more than a week, with another week to finalise and finish the entire job. Billy Fairhurst, Marshalls' Business Development Manager (Special Projects) referred to the fact that almost two thirds of the units used were already available from stock "Being able to use a stock product allowed us to speed up the programme". Only around 12 box culvert units were bespoke or required some customisation to meet the project's requirements.
Castlehouse Construction Project Manager, Dave Crozier, praised Marshalls Civils & Drainage for their support throughout the process,
"Marshalls Kept us fully up-to-date with the manufacture of the specials and provided helpful advice to make the installation easier".
In addition to the car park, the project also included some soft and hard landscaping.
For more information on the project, please visit Marshalls website
here
. You can also find out more about box culverts' use in stormwater attenuation
here
.
Read more
---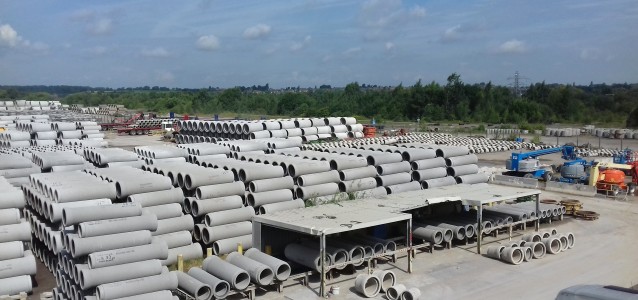 Like many other British precast concrete manufacturers, Stanton Precast has a long-standing ambition to become a low carbon product manufacturer and help the concrete sector reach Net Zero by 2050. Over the last few years, the company has introduced a wide range of measures to address carbon and reduce energy consumption and raw material use to a minimum in what can only be described as a Green Revolution.
Stanton Precast has a long-standing commitment to address the environmental impact of its production processes. Over the last few years, the company has developed several initiatives to reduce its carbon and environmental footprint. It continues to introduce measures to reduce the carbon emissions from its supply chain, and from its large manufacturing facility, in Ilkeston, where a wide range of precast concrete products are manufactured.
This short case study offers a glimpse into the company's own Green Revolution where measures were introduced to reduce both carbon and raw material use:
Reduced Energy Consumption
Stanton Precast has long been using a renewable energy source for its factory's electricity supply, reducing its manufacturing carbon emissions by almost a third. But the company isn't satisfied with this achievement alone and have sought help from energy consultants to explore how its energy consumption can be further reduced and become less dependant on fossil fuels. The ambitious scheme saw a wide range of measures introduced: from switching the entire lighting system to LED, to the introduction of energy saving elements such as motion detection lighting.
The company has an energy monitoring and benchmarking programme, as part of its ISO 14001 accredited management system, to ensure that further gains can be achieved on a regular basis.
Recycle and Reuse Materials
Stanton Precast has a long history of innovation in production and use of raw materials. The company currently replaces a proportion of its virgin aggregate with recycled variants obtained via the crushing and grading of the company's own waste product. This wouldn't only reduce the use of virgin material but can also result in significant carbon savings associated with waste processing and sourcing of virgin material.
Progress is monitored via a weekly graph sent to key managers detailing target versus actual usage percentages.
Capture and Reuse Rainwater and waste
Stanton Precast has recently installed two rainwater-harvesting systems to its batching plant and wet cast shed. The system collects rainwater from the roofs and stores it in dedicated tanks where it is then re-used in the concrete production process.
A similar reuse strategy is also being implemented with other waste materials. Stanton Precast currently diverts 93% of its waste from landfills. For example, all timber is reused where possible (i.e. bearers are returned via the hauliers after delivery and used again until beyond economical repair) and where not possible is sent via a waste carrier for recycling.
The last few years saw an increase in carbon reduction initiatives and measures by other precast drainage manufacturers as well. Between 2016 and 2019, BPDA believes that the carbon footprint of an average concrete pipe has dropped by anything between 6% to 9%. With further efforts by companies such as Stanton Precast, and with the introduction of the new BS 5911, which allows for low-carbon mixes, we would expect further significant drops in the carbon footprint of concrete pipes to the next few years.
Read more
---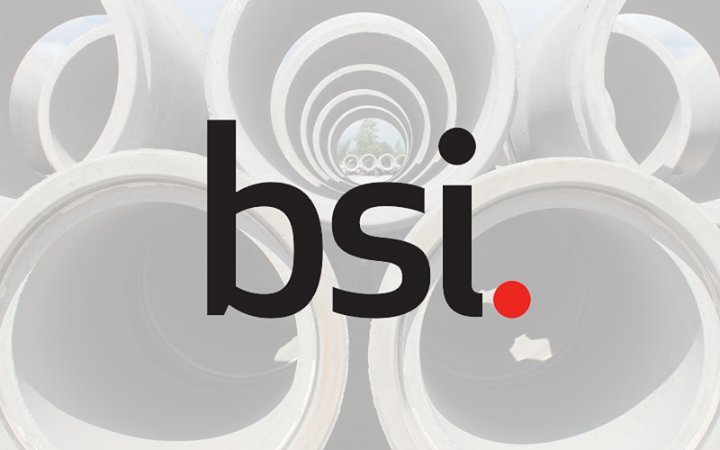 BSI has published BS 5911-1: 2021, Specification for unreinforced and reinforced concrete pipes. The revised specification standard will enable a wider variety of low carbon cements. It also introduces additional high-pressure jetting test requirements and, for the first time, makes a clear reference to requirements to meet a 100 years intended working life for concrete pipes.
The standard was last revised around 11 years ago. However, with calls across the industry for more infrastructure resilience and serviceability, a number of new requirements were introduced to help with the specification of more durable concrete pipeline systems capable of withstanding future challenges and requirements for further resilience. The new standard introduces a clearer link to the need to specify a DC-4 exposure class mix to meet the requirement for a 100 years' Intended Working Life for pipes. That link already existed in the past as all precast drainage is already specified to standards such as Special Digest 1 "Concrete in Aggressive Grounds" and BS 8500. But following the latest amendment, that link between Design Chemical exposure class and the pipes' Intended Working Life is made more evident. The direct reference to a 100 years working life would not only help with Whole Life Carbon and cost planning, but also with Design for Circular Economy and long-term performance.
The "Cementitious Content" section of BS 5911-1 has now been amended and will now enable the use of a significantly wider variety of low carbon cements, including low carbon cements added recently to the concrete specification standard, BS 8500, such as pozzolanic cements and a variety of ternary cements with limestone fines content.
With the rise in fatbergs and sewer blockage problems, authors of the standard also introduced new testing requirements to ensure pipeline robustness during maintenance and high-pressure sewer jetting operations. A new annex on stationary water jetting tests was introduced where pipeline products will be tested using a 28 Mpa (approx. 4,000 psi) water jet pressure. This new testing requirement will offer assurance that every concrete pipe manufactured in the UK is robust enough to undertake the level of high-pressure jetting normally needed to remove fatbergs.
The new BS 5911-1: 2021 can be purchased from the BSI website. For any further information on the new standard please contact
email@precastdrainage.co.uk
Read more
---
Concrete precast drainage and SuDS products manufacturer FP McCann has supplied and installed an 840m3 precast panel tank to offer stormwater storage and attenuation for Beal Homes' Pilgrim Walk residential development in Hessle, East Yorkshire.
FP McCann's StormTank™ is one of a range multi-purpose precast concrete tank solutions by FP McCann. It can be designed and installed up to 6 metres high and with overall dimensions to meet the project's brief. StormTank™ is now accepted by a number of Water companies, including Yorkshire Water, and can be adopted under Section 104 of the Water Industry Act (1991) adoption process as described in Sewers for Adoption.
With a water storage capacity of around 837 cubes metres, the 10-sided Hessle StormTank™ is one of the largest ever to be installed in the last few months. It was mainly designed to release surface stormwater at a controlled rate into the conventional drainage system, reducing any risk of downstream flooding or sewer overflow. With a 100 or 120 years intended working life and 10 man access
FP McCann, in collaboration with design engineers Alan Wood & Partners, carried out a value engineering exercise to help specify the precast concrete panel tank system into the designated footprint with a focus on simplicity of construction and increased performance efficiencies over competing systems. Guy Jewitt, Beal Homes Technical Director, comment on StormTank™ sums up why precast tank system continue to offer the most preferrable and reliable SuDS attenuation choice:
"With final adoption under the Yorkshire Water S104 approval process, we had to take into consideration a number of factors on tank design. Robustness and long-life together with low maintenance performance were key to our choice of attenuation tank" he noted, "On future projects, we will certainly consider similar FP McCann supply and install precast concrete StormTank™ panel tanks systems."
Find out more about the Hessle StormTank™ case study here:
https://fpmccann.co.uk/portfolio-items/stormtank-east-yorkshire/
Read more
---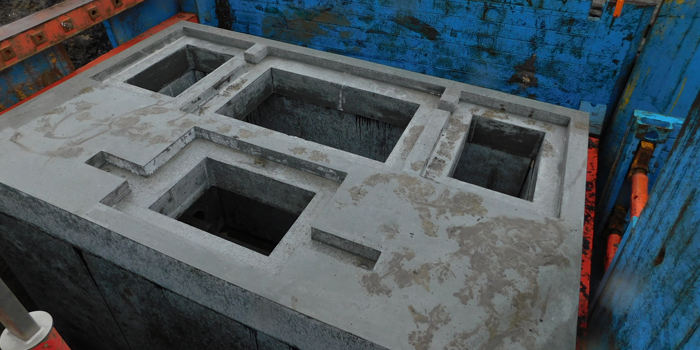 Precast concrete CSO is the preferred option for Amey Black & Veatch.

A flatpack precast concrete CSO chamber from specialist manufacturer Marshalls Civils and Drainage has enabled contractor Amey Black & Veatch to finish part of a £3 million project faster for Scottish Water in Paisley.

Marshalls Civils and Drainage supplied the CSO comprising eight separate components - four external walls, a two-piece split base, a centre weir wall and a single cover slab – for the project at Buchlyvie Road, Ralston, via Keyline Builders Merchants in Glasgow.

As well as the CSO installation, the works involved an APRNV chamber, new manholes and associated pipework as part of Scottish Water's improvement to its waste water infrastructure in the town to help improve the water quality and natural environment in local rivers.

The installation of better screening and new pipework will also improve the environment on local water courses, and in turn the River Clyde, benefiting aquatic life, flora and fauna.

To meet the strict quality requirements of the project, Amey Black & Veatch specified the CSO chamber from Marshalls Civils and Drainage to reduce excessive flows into the sewer during periods of high rainfall.

Marshalls Civils and Drainage can custom-design a CSO to suit specific wastewater treatment and sewer needs. Depending on the size of the sewer and flow specifications, a number of options range from one-piece chambers to larger flat-pack arrangements.

At Buchlyvie Road, the components were supplied by specialist distributor Keyline with whom Marshalls Civils and Drainage has a framework agreement. They were delivered to site and installed by specialist sub-contractor Clean Tech.

Assembly comprised installation of the base slabs on a prepared surface founded at a formation level of 3.24m below ground, followed by the four walls, bolted together at the corners, and weir wall. Joints were sealed with rubber seals and grouted. The finished CSO chamber measured 3.6m x 2.05m x 2.59m deep.

Compared with conventional CSOs built using either in-situ concrete or traditional brick, the modular precast concrete option is much quicker, safer and easier to install and, because the components are manufacturer off-site in controlled factory conditions, finished quality is very high.

Marshalls Civils and Drainage offer a range of SUDS solutions, as part of their water management precast systems, to combat the effects of surface and flood water.

"The precast units used offered a quality finish, the installation was simple and the ease of installation assisted in delivering the CSO according to the programme," said Amey Black & Veatch project manager John Townshend.

"We have used Marshalls Civils and Drainage precast products many times in the past and always found them easier and faster to install than alternative methods. We now specify precast in preference to other options for structures such as CSOs."
Read more
---