Inside Stanton Precast's Green revolution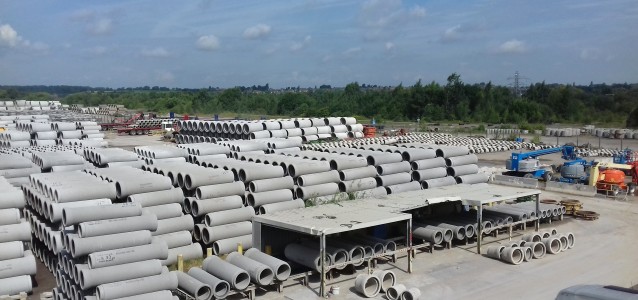 Like many other British precast concrete manufacturers, Stanton Precast has a long-standing ambition to become a low carbon product manufacturer and help the concrete sector reach Net Zero by 2050. Over the last few years, the company has introduced a wide range of measures to address carbon and reduce energy consumption and raw material use to a minimum in what can only be described as a Green Revolution.
Stanton Precast has a long-standing commitment to address the environmental impact of its production processes. Over the last few years, the company has developed several initiatives to reduce its carbon and environmental footprint. It continues to introduce measures to reduce the carbon emissions from its supply chain, and from its large manufacturing facility, in Ilkeston, where a wide range of precast concrete products are manufactured.
This short case study offers a glimpse into the company's own Green Revolution where measures were introduced to reduce both carbon and raw material use:
Reduced Energy Consumption
Stanton Precast has long been using a renewable energy source for its factory's electricity supply, reducing its manufacturing carbon emissions by almost a third. But the company isn't satisfied with this achievement alone and have sought help from energy consultants to explore how its energy consumption can be further reduced and become less dependant on fossil fuels. The ambitious scheme saw a wide range of measures introduced: from switching the entire lighting system to LED, to the introduction of energy saving elements such as motion detection lighting.
The company has an energy monitoring and benchmarking programme, as part of its ISO 14001 accredited management system, to ensure that further gains can be achieved on a regular basis.
Recycle and Reuse Materials
Stanton Precast has a long history of innovation in production and use of raw materials. The company currently replaces a proportion of its virgin aggregate with recycled variants obtained via the crushing and grading of the company's own waste product. This wouldn't only reduce the use of virgin material but can also result in significant carbon savings associated with waste processing and sourcing of virgin material.
Progress is monitored via a weekly graph sent to key managers detailing target versus actual usage percentages.
Capture and Reuse Rainwater and waste
Stanton Precast has recently installed two rainwater-harvesting systems to its batching plant and wet cast shed. The system collects rainwater from the roofs and stores it in dedicated tanks where it is then re-used in the concrete production process.
A similar reuse strategy is also being implemented with other waste materials. Stanton Precast currently diverts 93% of its waste from landfills. For example, all timber is reused where possible (i.e. bearers are returned via the hauliers after delivery and used again until beyond economical repair) and where not possible is sent via a waste carrier for recycling.
The last few years saw an increase in carbon reduction initiatives and measures by other precast drainage manufacturers as well. Between 2016 and 2019, BPDA believes that the carbon footprint of an average concrete pipe has dropped by anything between 6% to 9%. With further efforts by companies such as Stanton Precast, and with the introduction of the new BS 5911, which allows for low-carbon mixes, we would expect further significant drops in the carbon footprint of concrete pipes to the next few years.
Published on 20th September 2021