Latest News
Concrete precast drainage and SuDS products manufacturer FP McCann has supplied and installed an 840m3 precast panel tank to offer stormwater storage and attenuation for Beal Homes' Pilgrim Walk residential development in Hessle, East Yorkshire.
FP McCann's StormTank™ is one of a range multi-purpose precast concrete tank solutions by FP McCann. It can be designed and installed up to 6 metres high and with overall dimensions to meet the project's brief. StormTank™ is now accepted by a number of Water companies, including Yorkshire Water, and can be adopted under Section 104 of the Water Industry Act (1991) adoption process as described in Sewers for Adoption.
With a water storage capacity of around 837 cubes metres, the 10-sided Hessle StormTank™ is one of the largest ever to be installed in the last few months. It was mainly designed to release surface stormwater at a controlled rate into the conventional drainage system, reducing any risk of downstream flooding or sewer overflow. With a 100 or 120 years intended working life and 10 man access
FP McCann, in collaboration with design engineers Alan Wood & Partners, carried out a value engineering exercise to help specify the precast concrete panel tank system into the designated footprint with a focus on simplicity of construction and increased performance efficiencies over competing systems. Guy Jewitt, Beal Homes Technical Director, comment on StormTank™ sums up why precast tank system continue to offer the most preferrable and reliable SuDS attenuation choice:
"With final adoption under the Yorkshire Water S104 approval process, we had to take into consideration a number of factors on tank design. Robustness and long-life together with low maintenance performance were key to our choice of attenuation tank" he noted, "On future projects, we will certainly consider similar FP McCann supply and install precast concrete StormTank™ panel tanks systems."
Find out more about the Hessle StormTank™ case study here:
https://fpmccann.co.uk/portfolio-items/stormtank-east-yorkshire/
Read more
---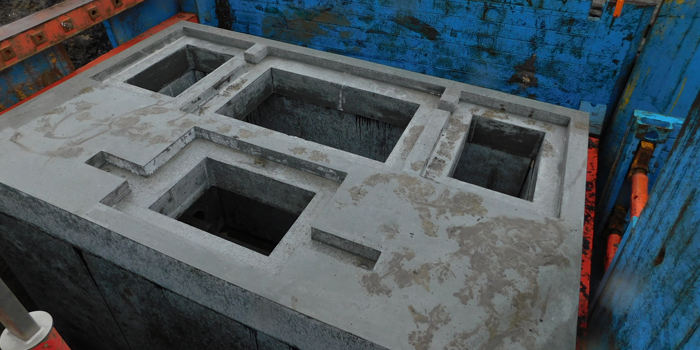 Precast concrete CSO is the preferred option for Amey Black & Veatch.

A flatpack precast concrete CSO chamber from specialist manufacturer Marshalls Civils and Drainage has enabled contractor Amey Black & Veatch to finish part of a £3 million project faster for Scottish Water in Paisley.

Marshalls Civils and Drainage supplied the CSO comprising eight separate components - four external walls, a two-piece split base, a centre weir wall and a single cover slab – for the project at Buchlyvie Road, Ralston, via Keyline Builders Merchants in Glasgow.

As well as the CSO installation, the works involved an APRNV chamber, new manholes and associated pipework as part of Scottish Water's improvement to its waste water infrastructure in the town to help improve the water quality and natural environment in local rivers.

The installation of better screening and new pipework will also improve the environment on local water courses, and in turn the River Clyde, benefiting aquatic life, flora and fauna.

To meet the strict quality requirements of the project, Amey Black & Veatch specified the CSO chamber from Marshalls Civils and Drainage to reduce excessive flows into the sewer during periods of high rainfall.

Marshalls Civils and Drainage can custom-design a CSO to suit specific wastewater treatment and sewer needs. Depending on the size of the sewer and flow specifications, a number of options range from one-piece chambers to larger flat-pack arrangements.

At Buchlyvie Road, the components were supplied by specialist distributor Keyline with whom Marshalls Civils and Drainage has a framework agreement. They were delivered to site and installed by specialist sub-contractor Clean Tech.

Assembly comprised installation of the base slabs on a prepared surface founded at a formation level of 3.24m below ground, followed by the four walls, bolted together at the corners, and weir wall. Joints were sealed with rubber seals and grouted. The finished CSO chamber measured 3.6m x 2.05m x 2.59m deep.

Compared with conventional CSOs built using either in-situ concrete or traditional brick, the modular precast concrete option is much quicker, safer and easier to install and, because the components are manufacturer off-site in controlled factory conditions, finished quality is very high.

Marshalls Civils and Drainage offer a range of SUDS solutions, as part of their water management precast systems, to combat the effects of surface and flood water.

"The precast units used offered a quality finish, the installation was simple and the ease of installation assisted in delivering the CSO according to the programme," said Amey Black & Veatch project manager John Townshend.

"We have used Marshalls Civils and Drainage precast products many times in the past and always found them easier and faster to install than alternative methods. We now specify precast in preference to other options for structures such as CSOs."
Read more
---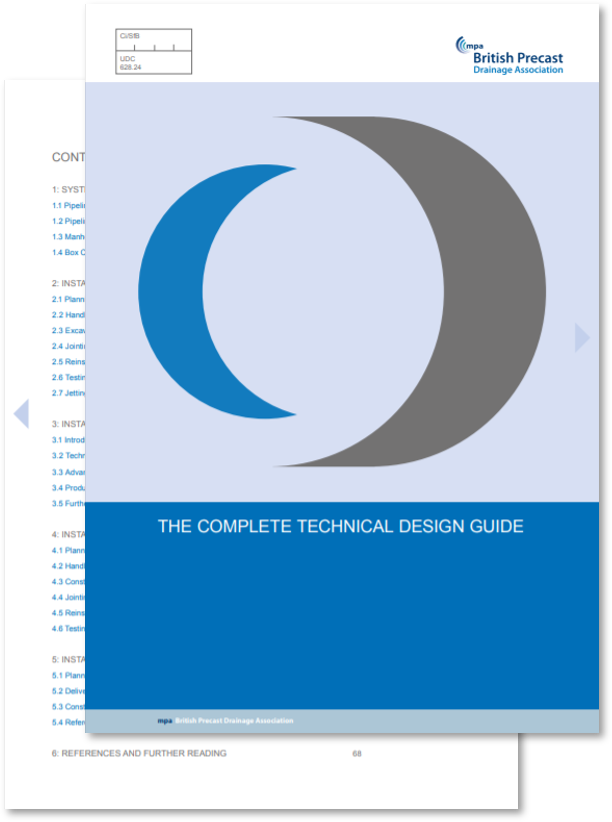 The British Precast Drainage Association (BPDA) has published a new edition of its precast concrete drainage sector Complete Technical Design Guide. Several amendments were made to the Guide and new content was introduced to meet the requirements of the revised pipeline structural design standard, BS 9295, published last year. The Technical Guide revision comes at the back of an earlier overhaul we carried out in 2019 to include further content on hydraulic design, Eurocodes compliant loading and new chapters on the structural design of box culverts.
The new 2021 edition is now fully aligned with all the principal design changes introduced in BS 9295. These include the addition of a "wide trench condition" method to rigid pipelines' design, new bedding factors, Eurocodes-aligned traffic loading and a new design option based on Limit State Design. Further changes were also introduced to align the standard with the new DCG sewers adoption guide and latest government advice on CE Marking and post-Brexit UKCA mark.
A copy of the new Technical Guide can be downloaded from our website, here:
https://www.precastdrainage.co.uk/page/technical-guide
Read more
---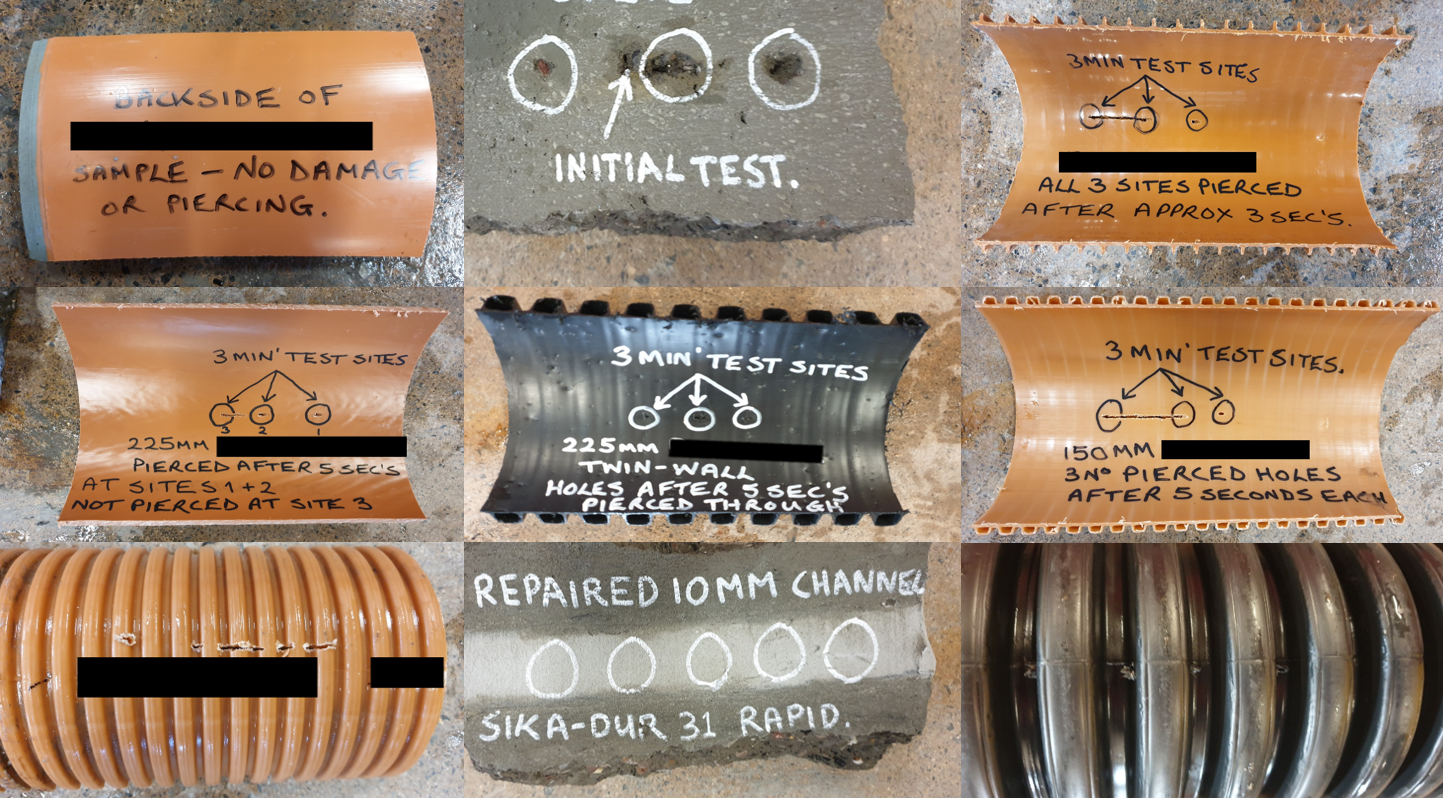 Compared to various plastic pipe alternatives, concrete pipes are more likely to withstand a blockage clearance operation requiring 4,000 psi water jetting, a typical high‐pressure jetting range used regularly by contractors to clear some of the most challenging sewer blockages. This is according to results from a series of jetting resistance tests published by BPDA. On the other hand, it could take no more than 3 to 5 seconds for some plastic pipe alternatives to experience irreversible piercing damage when cleaned at the same water jetting pressure.
BPDA carried out a series of high-pressure stationary water jet tests in late 2019. Eight samples of concrete and plastic pipes were included. The tests were carried out with a jetting pressure of 4,000 psi, a water jet pumping pressure range not recommended for all types of pipes but frequently used by cleaning contractors to clear some of the most challenging sewer blockages involving fatbergs, wipes, rags and tree roots.
As a precaution, and to avoid damage from high-pressure jetting, the Manual of Drain & Sewer Cleaning advises that the jetting nozzles should not be kept stationary at one single spot for more than 90 seconds. It was, therefore, reasonable to expect some resistance from all types of pipes (including plastic) to high-pressure stationary jetting that would last for at least 30 to 60 seconds. However, in almost all plastic pipe samples tested, this was not the case. Four of the six plastic pipe samples all experienced significant internal layer piercing damage inside 5 seconds. The pipe walls in all four samples were fully penetrated within a few seconds. One sample experienced significant internal layer piercing damage inside 3 seconds only, raising fears that any potential blockage clearance where high-pressure jetting is the only option may result in permanent damage and replacement or rehabilitation for such types of pipe.
The other two plastic pipe samples, currently being advertised as resistant to 4,000 psi jetting, also experienced significant piercing damage to the inner surface within 5 to 60 seconds. In both samples, the jetting water dispersed through the core material within the pipe wall, exposing the recycled core material and raising blisters on the inner surface. All the concrete pipe samples tested passed the test.
Colin Richardson, President of BPDA, noted that these test results should serve as warning to the industry about the risks of deregulation. The new Water industry sewers adoption code no longer allows water companies to impose their own restrictions and rules on sewers adoption. At least three Water Companies used to restrict adoption to sewerage pipes that can resist high-pressure water jetting up to 4,000 psi. "Every year, Water Companies deal with up to 300,000 sewer blockages across Britain", he noted, "it is fully acknowledged that consumer's behaviour needs to change. But there is more that we can do as an industry to ensure that our sewerage systems are capable of withstanding the implications of a sewer blockage clearance". Colin Richardson believes that all Water Companies need to introduce strict limits to pipes' jetting resistance.
Results of the test report can be found
here
.
Read more
---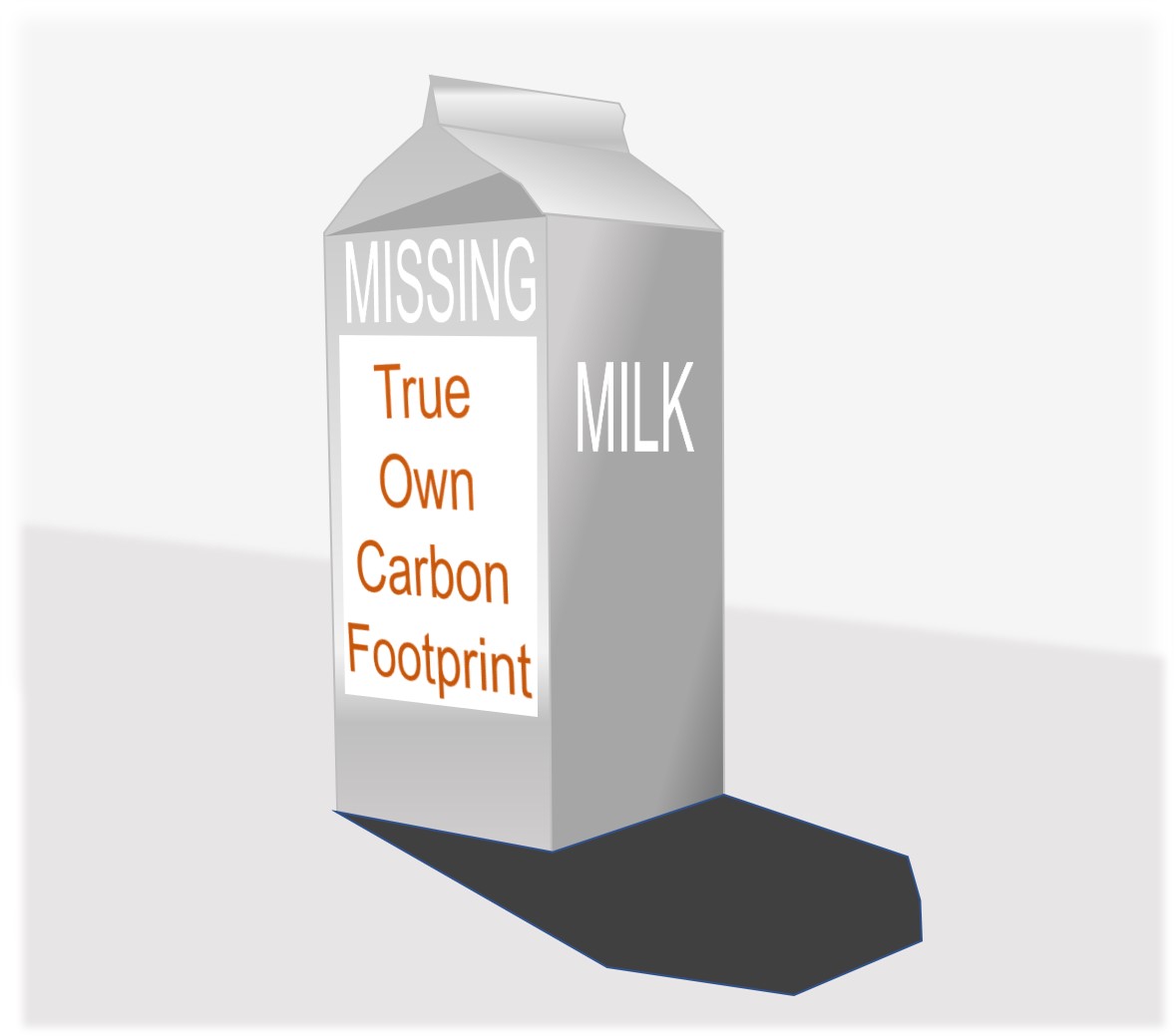 Ten years on since we published the first third party verified carbon footprint for UK manufactured concrete pipes and manholes, the drainage & sewerage sector continues to struggle with the availability of verified and representative carbon data for certain construction products and components. The case for pipeline products is specifically concerning: While the UK concrete drainage sector have representative and 3 rd party verified carbon footprint data accurately reflecting their supply chain, the situation with the carbon data for other types of pipeline products is completely different as non-representative supply chain data is still being used.
Ten years ago, BPDA was one of the first construction product sectors to publish a 3 rd party verified carbon footprint for concrete pipes and manholes to standard PAS 2050. BPDA members would then introduce a wide range of measures and initiatives to reduce carbon, from precast base manholes to a number of concrete pipes lifting and installation equipment designed to improve H&S and reduce emissions from traditional installation methods. The EPD we published in 2018 revealed a 9% reduction to the carbon footprint of concrete pipes.
In 2011, there was very little attention to this topic within the sewerage and drainage sector. Today, the situation is totally different. An Infrastructure Carbon Review in 2013, first launched with Government support, resulted in the development of a new Carbon Management guidance standard for the industry, known as PAS 2080. A number of Water Companies today operate sufficient carbon accounting systems to ISO 14064 and Water UK has even launched a
carbon routemap to 2030
.
However, in order to properly assess and quantify the Capital Carbon of water & wastewater projects, there is a need for robust and reliable embodied carbon data for different products and materials in accordance with recognised methodologies. PAS 2080 identifies a number of specific methodologies. Only verified EPDs or Carbon Footprints to EN 15804, ISO 21930, ISO 14067 or PAS 2050 can be used. Such EPDs will need to be representative of the components, products and technologies employed. The carbon data needs to be "regionally applicable" and "reflect the technologies used in the supply chain" of that project. For a pipeline study to be acceptable under PAS 2080, there is need for these representativeness requirements to be fulfilled.
Unfortunately, this is currently not happening. While the UK's concrete pipe sector has so far published at least three carbon footprint reports to PAS 2050/ EN 15804 and three 3 rd party verified comparative studies, the UK's plastic drainage sector has not made any UK-specific carbon footprint data publicly available. The plastic pipe industry across all Europe currently has a single set of data covering the entire sector. The data is believed to be reliant on earlier plastic resin studies by Plastics Europe which are based on 100% European resin production. This may no longer be the case in the EU or UK market as some evidence suggests that imported HDPE resin already makes a significant proportion of resin consumed in the EU (
JRC, 2020
). A JRC study last year suggested that almost two thirds of all plastic resin imported to the EU comes from the Middle East where completely different energy sources and technologies are employed (see Table 4.6
here
). If it turns out that plastic drainage manufacturers continue to use Middle Eastern resin, then this should reflect on their generic carbon footprint (currently based on an old study carried out 15 years ago). Last year,
a study conducted by Circular Ecology for BPDA
revealed that an HDPE pipe manufactured from Middle Eastern resin can have a carbon footprint 33% higher than one made of resin imported from a European country like Norway.
10 years on, and in preparation for a new roadmap initiative that would account for embodied carbon reductions, there is a need for further scrutiny and more detailed guidance will need to be imposed to ensure that embodied carbon data reported by pipeline manufacturers is accurate and representative of their true supply chain. The fight against Climate Change cannot be won with questionable embodied carbon data. For more information about the UK concrete pipeline industry's carbon footprinting, EPD and sustainability work, please visit:
https://www.precastdrainage.co.uk/page/sustainable-drainage-systems
Read more
---