Latest News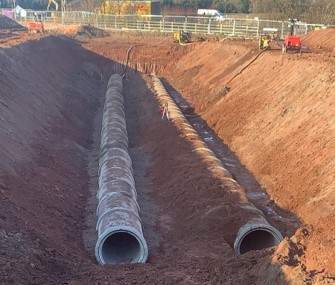 DN1200 concrete pipes, from FP McCann, were used recently to offer protection for mains water diverted as part of a new road link scheme in the M42.

The road link, at junction 6 of the M42 near Solihull, is part of a main £143M contract with Highways England being delivered by Skanska. The project, which started in 2021, is expected to significantly reduce traffic congestion at peak hours.

The diverted mains water were being installed at significantly deep depths, 6 metres under the new road, requiring protection. Severn Trent and their strategic alliance partners Amey employed the services of specialist utilities civil engineering contractors G&V Gallagher to carry out the job. The team decided to employ concrete pipes as a protective sleeve for the mains water pipes being diverted. The DN1200 concrete pipes, procured via builder merchants Wolseley and supplied from FP McCann's Ellistown factory in Leicestershire, were the obvious choice due their resilience and ability to withstand significant loads, compared to lightweight alternatives. Two 70 metres long runs of concrete pipes were installed. The backfilling for the DN1200 pipeline used "as dug" material and a "Class B" bedding, a type of bedding which can achieve up to 50% savings in granular materials, leading to significant carbon savings compared to the full surround Class S bedding.

G&V Gallagher director Vivian Gallagher noted that they chose FP McCann's large diameter 1200mm pipes "… as the inherent strength and below ground loading capabilities of reinforced precast concrete gives them a distant advantage over large diameter plastic pipe alternatives".
Read more
---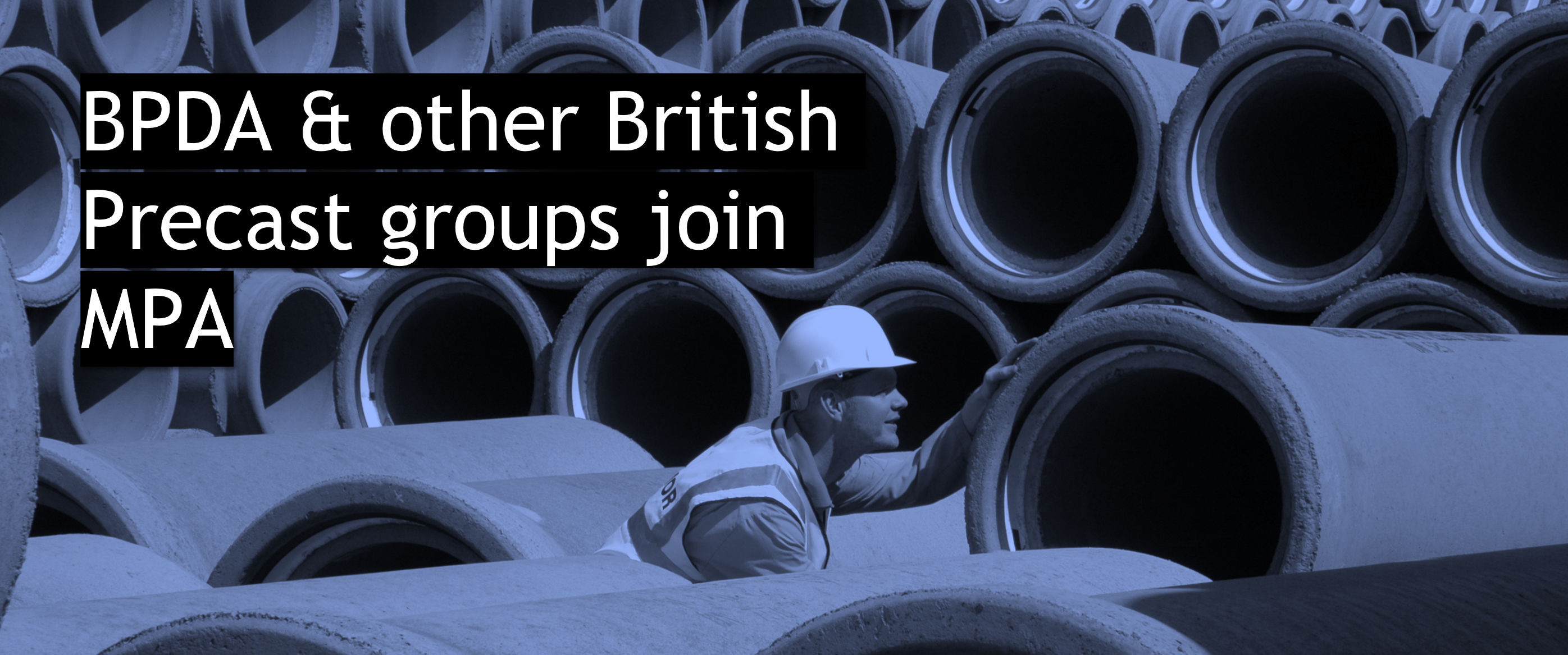 As of 1st January 2022, the British Precast Drainage Association (BPDA), along with the Precast Flooring Federation (PFF), British Precast Architectural & Structural (BPAS) and Interpave, have now become MPA Precast.
Britain concrete producers are joining their forces in one association to represent the industry and accelerate its journey to beyond Net Zero carbon.
British Precast, whose members include manufacturers of concrete masonry, paving slabs, structural sections and drainage systems, has merged with the Mineral Products Association (MPA) which represents all the UK's cement makers, over 90% of aggregates producers and more than 70% of ready-mixed concrete suppliers.
As of 1st January 2022, two new MPA product groups have been formed as a result of the merger to replace British Precast, MPA Precast and MPA Masonry. The British Precast Drainage Association (BPDA), along with the Precast Flooring Federation (PFF), British Precast Architectural & Structural (BPAS) and Interpave, have now been integrated under MPA Precast.
The merger gives the British concrete industry a single voice, with the sector's advocacy vehicle – UK Concrete – driving forward a common agenda to set the record straight about concrete's role in sustainable construction and address the challenges of climate change. The UK concrete and cement industry has already reduced absolute carbon emissions by 53% since 1990 – faster than any other sector of the economy – and the merger will unite the sector behind its ambitious 'Roadmap to Beyond Net Zero' by 2050.
Nigel Jackson CEO of Mineral Products Association said: "This is a landmark moment in the evolution of the UK concrete industry which is already a global leader in terms of decarbonisation, recycling and biodiversity enhancement. Now more than ever the concrete industry must work hand-in-glove to promote the essential role this amazing and under-appreciated material plays in our economy and our quality of life. Mitigating the industry's environmental impacts whilst delivering solutions that help people to adapt to climate change is an important balance to be struck. With the entire sector united and pulling in the same direction we are better able to achieve our shared goals."
Alan Smith, who retires as President of British Precast, said: "British Precast has been affiliated with the Mineral Products Association for the past decade and the successful relationship we have built has given our members the confidence to fully support this merger. Coming together enables the industry to operate more strategically, rejuvenating our determination to rise to the challenges of climate change and emphasise the importance of our industry in climate adaptation."
Read more
---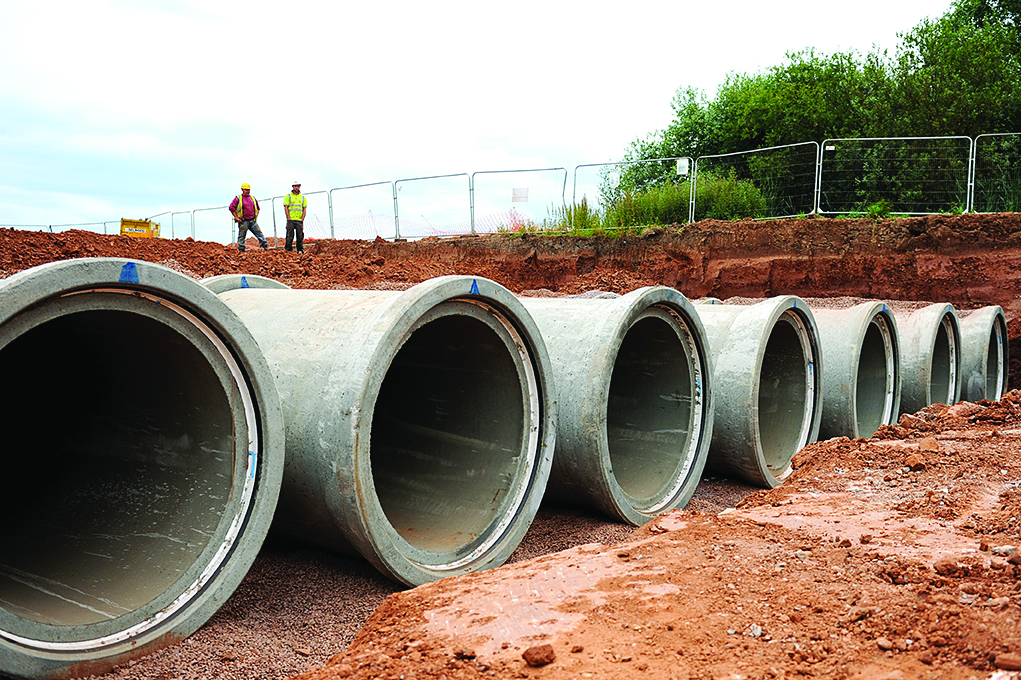 Last month, we published a factsheet explaining the findings of a carbon assessment we carried out to compare the whole life carbon emissions of attenuation tanks made of concrete pipes compared to an equivalent tank made of polypropylene Geocellular crates. The result may come as a surprise to some who may have expected that a lighter system is likely to have a lower carbon footprint. But whole life carbon assessments look at a very wide range of product characteristics and requirements.
In this blog, we highlight five elements that make all the difference in such underground tank comparisons:
1. Getting the numbers right
Getting the right calculation methodology is crucial. In Whole-life Carbon Assessments there is need for a robust methodology with sound scenarios for each option. Sourcing of right data is also important: The ICE Database is recognised by many in the construction industry as one of the most credible sources of construction-related carbon footprint data. But we need to bear in mind that carbon footprints change constantly and should be subject to continuous checking and scrutiny. This study uses the ICE Database (v.3) numbers as that version is still very recent. Using very simple math:
The concrete pipe tank's mass is around 22 times heavier than an equivalent Geocellular tank. But the carbon footprint of a tonne of mould-injected polypropylene, the material used in that specific type of crate tank, is almost 31 times higher than the carbon footprint of a tonne of concrete pipe. We also ensured that realistic assumptions were developed for products' transport to site, construction on site and End-of-Life. In a few years' time there will be a need for more up-to-date data, and this can only be achieved using recent and valid construction products' Environmental Product Declarations (EPDs) such as
this one from the BPDA
.
2. Functional Unit & Durability
Bear in mind that the comparison is not simply between two tanks. It is mainly between the services offered by these two tanks: which is the storage and attenuation of a certain amount of stormwater (300 m
3
) over a specific period of time (+100 years).
If the storage capacity deteriorates over time due to the accumulation of silt, then this needs to reflect on numbers. If a tank has a design life of 50 or 60 years only, then at least one replacement will need to be accounted for (as described in EN 15978) to fulfil the requirement of a +100 years' service life.
3. Use realistic "Transport to Site" and "site installation" scenarios
Development of scenarios for different lifecycle stages is one of the most challenging aspects in Whole Life carbon assessments as any inaccuracies in assumptions can lead to significant over or under-estimation of carbon emissions.
In the transport to site scenarios, instead of using transport factors (such as 0.1065 kg CO
2
e/ tonne.km) designed for GHG Protocol calculations, we opted for a different system based on what we know about deliveries and the maximum capacity for trucks used in delivery. Our calculations show that the plastic tank will likely need two deliveries only (at half laden), while the DN2100 concrete pipes will need 12 deliveries at "full laden" truck impact status.
We also avoided the use of any factors for construction activities and carbon emissions. We instead assumed that all plastic tank assembly is manual (carbon free) and calculated the impacts of concrete pipe installation based on the time consumed by a JCB JZ 141 excavator (around 11½ hours excluding idle-time and break-time). The time for excavation and backfilling was assumed to be similar for both systems.
4. Concrete which is unlike any other concrete
A fact often overlooked is that concrete pipes is made of a low carbon type of cement. The cement blend used with concrete pipes, CEM II B-V, uses a 30-35% fly ash content. Over the last few years, we also saw a rise in the use of CEM III blends (which includes GGBS). According to the ICE Database, the carbon footprint of one tonne concrete pipe is around 146 kg CO
2
e/t. This number is dropping every year and is likely to reach around 133.4 kg CO
2
e/t later this year. Moreover, the carbon footprint of a concrete pipe reaches its peak at the factory gate and then continues to drop every year due to carbonation. Concrete absorbs CO
2
through a chemical process associated with the CaO content within its mix. Based on our 3rd party verified EPD, up to 7% of the carbon footprint is likely to be negated by carbonation and the absorption of atmospheric CO
2
.
In the next 10 years we will see a significant drop in that carbon footprint as more cement manufacturers invest in Carbon Capture & Storage (CCS) and fuel switching technologies. The significant drop in the electricity grid carbon intensity is also likely to have a significant impact on UK concrete pipe factories in the next 10 years which is likely to become very evident.
5. Don't forget the End-of-Life stage
We tend to focus a lot on upfront carbon and forget about the fate of a pipeline at the End-of-Life. At the End-of-Life, a sewerage or drainage pipeline will need to be decommissioned and either exhumed or filled with foam concrete with a very lean mix. In urban areas where the pipes are partially or fully removed, removed concrete pipes can be reused again or crushed and reused as Recycled Concrete Aggregates (RCA). Crushed concrete can absorb vast amounts of CO
2
, significantly reducing the overall Cradle-to-Grave carbon footprint. The removed plastic crates are either incinerated, releasing anything between 1,000 to 1,500 kg of CO
2
per tonne of polypropylene, or recycled and reused in a lower applications.
Read more
---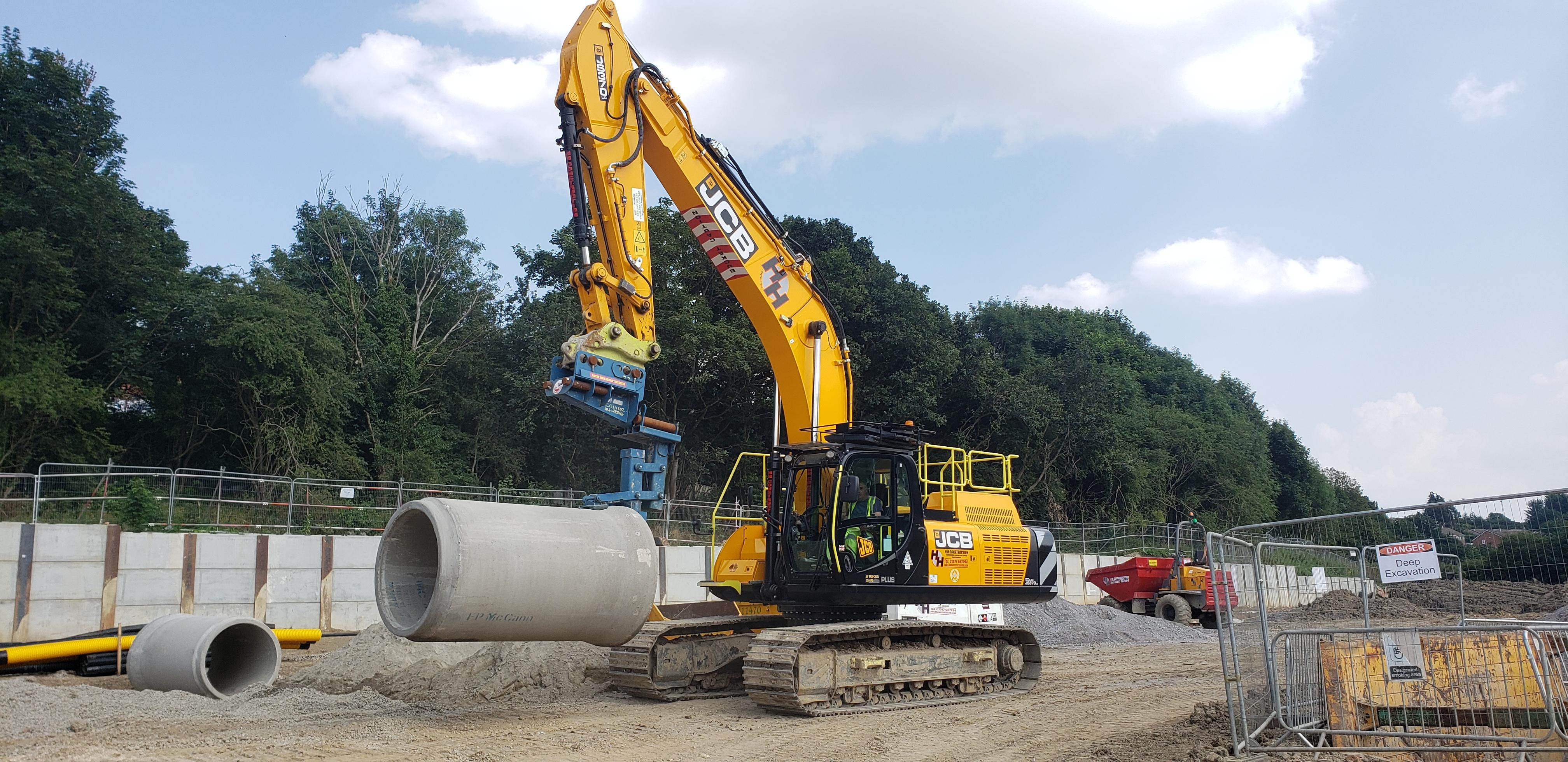 When faced with the challenge of installing a stormwater attenuation system strong enough to sustain variable traffic loads, and durable enough to serve over the lifetime of the housing development it serves, HH Construction had no illusions about the best attenuation system for the job.

The Stonebridge Mills housing development scheme will see 82 new homes constructed at the site of the Grade II derelict mills in Farnley, Leeds. The new housing development is expected to be completed, and ready for its residents, by summer 2023. Civil Engineering and groundwork contractors, HH Construction and Castleford groundworks, were tasked with constructing the on-site drainage and road infrastructure for the new housing development. This included construction of a storm water attenuation system to mitigate flood risks on site. They needed an attenuation solution robust enough to take variable traffic loads beneath the development's main access road and capable of functioning throughout the 100+ years lifespan of the development.

After considering several attenuation solutions, drainage designers Fairhurst decided to specify a FP McCann's StormHold TM DN1200 precast pipe tank solution. StormHold™ Concrete pipeline tanks can be designed to different traffic loading requirements, as high as LM1 if needed, and are manufactured to BS 5911-1, which offers a path for a 100 years intended working life. A key feature in the attenuation system installed was the use of bespoke side entry manhole bends, incorporated as an integral part of the online system, to remove the need for separate manhole builds. Up to nine of these side-entry units were used in the attenuation tank system with pipe bends ranging from 10° to 160°.

Commenting on their choice for stormwater attenuation, Steve Kelly, planner for HH Construction noted that after considering alternative systems, taking into account the need to install the system beneath a road "...the use of FP McCann's DN1200 precast concrete pipes was considered by far the best option". The use of manhole bends, eliminating the need for manholes, was also one of the main reasons why StormHold™ was the contractors' and designers' preferred option.
Read more
---
The concrete pipe structural design calculator, an online tool used by thousands of engineers every year, has been updated to the new national pipeline design methodology in BS 9295:2020.
BS 9295, first published 11 years ago as a complementary guidance to European Standard EN 1295, became the main national pipeline structure design standard in the UK when it was revised and published last year. Significant changes were introduced to the design of both rigid and flexible pipeline systems. This has prompted a revamp of our structural design calculator. The calculator can now enable pipeline design calculations based on both, wide and narrow trench conditions. The Design Load tables associated with the calculator were also updated and aligned with Eurocode loading requirements. In line with BS 9295, the new calculator only accounts for two main types of conditions overground: "Main Road" and "Field". We have also made the calculator more user- friendly and calculation results can now be exported in a PDF or Excel document format.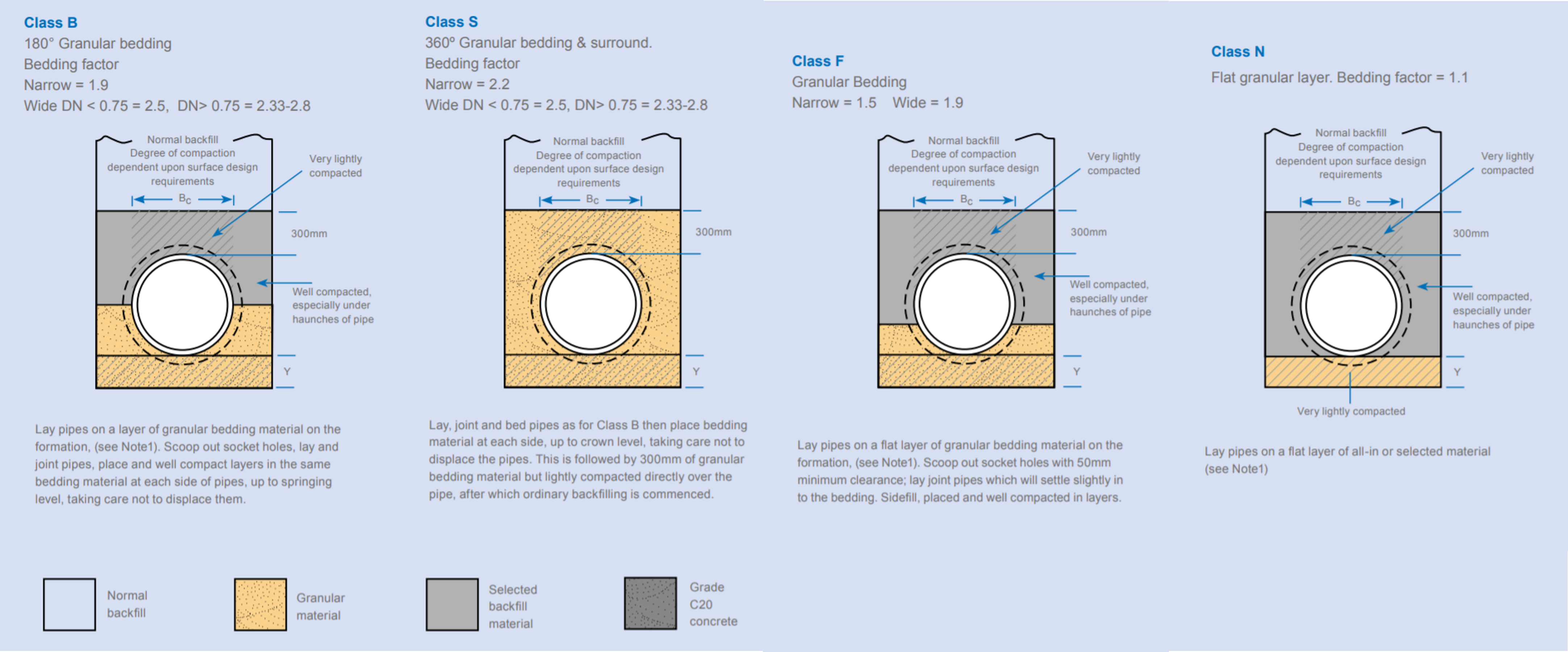 The new structural calculator can be found at the BPDA website here:
https://www.precastdrainage.co.uk/calculators/structural-design
For more information on BS 9295:2020 and how it has affected the structural design of concrete pipeline systems, please visit this blog at BPDA website:
https://precastdrainageblog.co.uk/2019/11/buried-pipeline-design-standard-brought-up-to-date/
Read more
---