Latest News

The CPSA training programme for industry professionals has been extended with the launch of a new CPD accredited presentation "Embodied Carbon Emissions in Concrete and Other Pipeline Materials". Everyone today is talking about sustainability. The UK's pledge to reduce carbon emissions by 80% by 2050 will place immense pressure on industry to deliver. Carbon reduction and efficiency targets are appearing in all sectors. However confusion is widespread and "Carbon Accounting" can still be considered in its infancy. The new CPD presentation:
Explains the fundamentals of carbon accounting and the data required to produce a carbon footprint
Identifies recognized information sources and indicates limitations to the reliability of some data
Includes a detailed analysis of pipelines and provides comparisons with alternative pipeline materials and installation methods
Provides an overview of other environmental impacts such as responsible sourcing, recycling and embodied energy
To register your interest or to learn more about the full CPD programme click here
Read more
---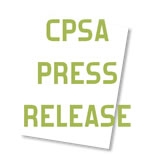 The Concrete Pipeline Systems Association (CPSA) is aware of a carbon footprint comparison study between UK traditional manhole systems and a new manhole system imported from abroad. Dutch manufacturers, Kiljstra, have referred to the study findings in a number of adverts and made several claims based on that comparison. CPSA believes that the results of the study were significantly affected by incorrect information and assumptions. A number of discrepancies were identified – these are detailed here
Read more
---
A Press Release was published by CPSA on a new non-compliant manhole type in the market. The new manhole type does not meet requirements at BS 5911-3, EN 752, CESWI (6th Ed), and Sewers for Adoption (6th Ed). It is understood that these manhole systems are orginially produced in the Netherlands and imported to the UK.
CPSA also released an explanatory note with more details on the compliance problems of that manhole system
Read more
---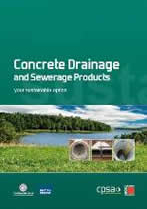 The Concrete Pipeline Systems Association (CPSA) and the Box Culvert Association (BoxCA) have published "Concrete Drainage and Sewerage Products: your sustainable option".
The brochure identifies 12 sustainability advantages of concrete drainage systems and offers information about the manufacture of products and why the environmental impacts associated with these systems are typically low. It also illustrates how concrete drainage products can be used to improve sustainability and reduce environmental impacts.
The publication is available at CPSA and BoxCA websites as a
PDF download
and is also available as a hard copy from British Precast. Please call 0116 253 6161 for your copy.
Read more
---