Latest News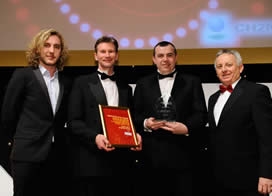 CPSA is pleased to be a sponsor of the Water Industry Achievement Awards (WIAA) 2013 in the category "Most Innovative Use of Existing Technology Award".
The WIAA has been running for six years and is recognised as one of the most prestigious awards in the water and wastewater industry. CPSA had two award entries shortlisted for WIAA 2012, with the concrete pipe lifter winning the Health & Safety Initiative Award.
Winners of the 2013 awards will be announced at a ceremony at the Hilton Birmingham Metropole on 21st March
Read more
---

Nottingham and Peterborough CPD - As part of the Construction CPD Road Seminar Tour 2012 CPSA will be holding its CPD certified seminar "Carbon Footprinting Demystified: Do we understand what a carbon footprint actually is?" at Novotel Nottingham on 3rd October and Marriot Hotel, Peterborough on 4th of October. The seminar explains the fundamentals of carbon accounting, the data required to produce a carbon footprint and why data reliability counts in carbon footprinting.The presentations on both days will be made by Stuart Crisp, CPSA's Business Development Director. To ensure a place for the seminars you wish to attend, book online atwww.cpduk.co.uk
Read more
---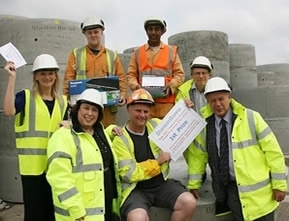 A Stanton Bonna Health & Safety campaign has reduced accidents by three quarters while also rewarding the workforce and a charity that helps sick youngsters. The 'near miss and hazard' scheme run by the pre-cast concrete manufacturers, based at Stanton-by-Dale, near Ilkeston, has now been running for six years. Operations director Rob Fifer told the workforce: "The accident rate is now a quarter of that it was in 2007 – a dramatic reduction. It's helping to make this workplace safe." Chief executive Barry Cooper said; "We are proactive to stop accidents happening, rather than reactive when they have happened. This system is fundamental to that." He added that among the Consolis group Stanton Bonna is known as safe and secondly as profitable.
Read more
---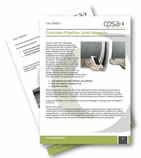 EN 1916:2002 "Concrete pipes and fittings, unreinforced, steel fibre and reinforced" is the only product Standard for gravity sewer pipes to include a requirement for joint durability. This Factsheet explains how joints in concrete pipes are designed to remain watertight over the long (100+ years) design life of the sewer and whilst doing so, achieves a high contact pressure in the seal to resist root penetration.
Download here
Read more
---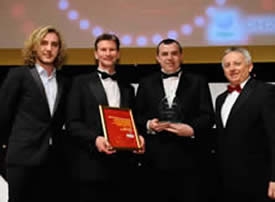 CPSA has won the 2012 Water Industry Achievements Awards (WIAA) for the best industry Health & Safety Initiative for its recent efforts to introduce the new innovative concrete pipe lifter to the UK market. The new lifter is designed to improve site safety and speed up installation: It removes the need for operatives to be placed on the back of vehicles, eliminating working at height during offloading of deliveries, and can cut pipe installation times by 50%. More information on the pipe lifter can be found here.Image from right to left: Ken Titterton, UK HSE Manager at CH2M sponsors; Francis McCann, Director F P McCann and Chairman CPSA; Stuart Crisp, Business Development Director CPSA; event host comedian Seann Walsh
Read more
---