Notice: This news piece was created prior to the formation of the British Precast Drainage Association.
Collapsed steel sewer causes sinkhole in Canadian highway. Concrete pipe provides fix.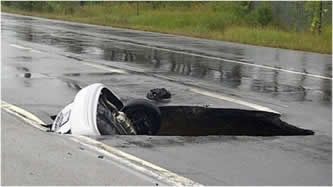 A sinkhole developed on Sept 4th 2012 at 5:10pm on Highway 174 near Ottawa, Ontario as a result of a Corrugated Steel Pipe collapse. A motorist drove in to the hole but escaped with minor injuries as his car was almost stopped at that time. The highway is still closed in the eastbound direction and traffic chaos has resulted. The cost of repairs is estimated to be $6 million. Watch the Canadian News Channel CBC News report from the 4:16 -6:38 minute marks in the clip (after the ads)
There is already a history of highway sinkholes caused by collapse of flexible or semi-flexible culvert systems used under roads. In 2008 a news channel reporter in Freeport, Maine,captured the moment on video as a corrugated steel pipe culvert broke loose during heavy rainfall causing the road above it to collapse.
Published on 30th November -0001