Notice: This news piece was created prior to the formation of the British Precast Drainage Association.
"SEWERS FOR ADOPTION" 7TH EDITION PUBLISHED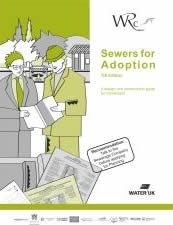 The seventh edition of the wastewater industry guide for acceptance and adoption of sewers in England and Wales, "Sewers for Adoption" (SfA) has now been published. For the first time, the new issue of SfA includes smaller sewers and lateral drains that were previously the responsibility of property owners. SfA7 also introduces further changes designed to reduce the differences in requirements between the water companies. SfA7 includes alternative construction details for manholes; a direct result of recently introduced circular precast base manhole systems by CPSA members. These new manholes provide a safer method of construction plus time and installed cost savings and have already been used by water companies for over two years.

SfA7 also introduces new Best-Practice measures including a requirement to avoid point loading and overstressing of the joints of manhole rings., Clause E6.4 "Precast Concrete Manholes, Chambers and Wet Well" sub-clause 3 states "Joints shall be made so that the required jointing material fills the joint cavity. Concrete to concrete contact across the joint shall not be permitted". All members of CPSA make products that fully comply with these new requirements.
Published on 30th November -0001