Notice: This news piece was created prior to the formation of the British Precast Drainage Association.
Workers and charity gain as campaign slashes accidents by 75 per cent at concrete pipe factory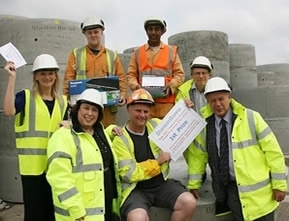 A Stanton Bonna Health & Safety campaign has reduced accidents by three quarters while also rewarding the workforce and a charity that helps sick youngsters. The 'near miss and hazard' scheme run by the pre-cast concrete manufacturers, based at Stanton-by-Dale, near Ilkeston, has now been running for six years. Operations director Rob Fifer told the workforce: "The accident rate is now a quarter of that it was in 2007 – a dramatic reduction. It's helping to make this workplace safe." Chief executive Barry Cooper said; "We are proactive to stop accidents happening, rather than reactive when they have happened. This system is fundamental to that." He added that among the Consolis group Stanton Bonna is known as safe and secondly as profitable.
Published on 30th November -0001