Latest News
The 2014 National SuDS Conference - Design, Delivery and Management of Sustainable Drainage Systems (SuDS) – will be held on 24th and 25th June in Northampton.
This conference and site tour will review the latest guidance, provide technical briefings and explain practical developments that influence the design, delivery and management of SuDS. It is intended as a forum for debate and will provide support in dealing with implementation of the 2010 Flood and Water Management Act and the National Standards for SuDS later this year.
The two day conference and exhibition is aimed at local authorities and design professionals and features presentations from experts who will share their practical experience based on completed projects. It will also include a tour around the Upton project to view SuDS in use.
For more information please click here to take a look at the flyer.
Read more
---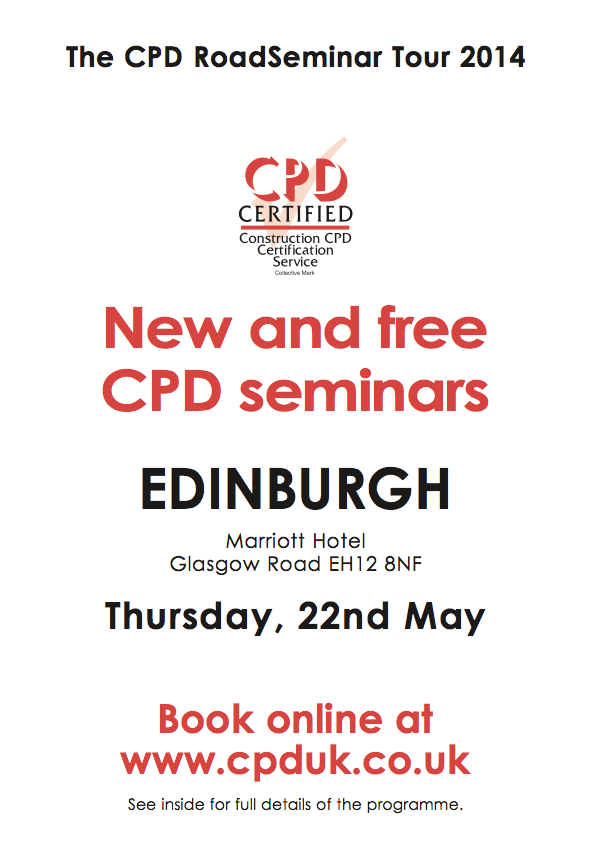 CPSA is promoting the Construction CPD RoadSeminar Tour 2014, with the next event taking place in Edinburgh on 22nd May.
CPD - Continuing Personal or Professional Development - is a commitment to structured skill enhancement and personal or professional competence.
CPSA currently offers industry professionals a choice of three CPD-accredited presentations and CPSA will focus on "Surface Water Management using proprietary precast concrete SuDS systems" at the event in Edinburgh on 22nd May.
The event takes place at the Edinburgh Marriott in Glasgow Road. The first seminar starts at 10.15 and the final seminar concludes at 3.50pm. Attendance is free of charge and delegates are welcome to attend as many sessions as they wish.
The seminar programme and booking form can be downloaded here. Further details and booking information is available from Construction CPD Certification Service at 020 8840 4383; events@cpduk.co.uk; and www.cpduk.co.uk.
Read more
---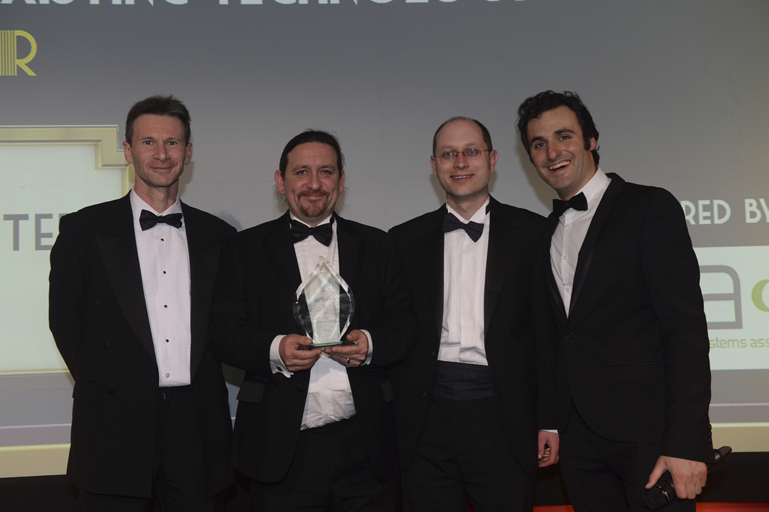 The largest and most prestigious Water Industry Achievement Awards to date took place on Tuesday 1st April where 470 of the water sectors finest came together at the Hilton Birmingham Metropole for an outstanding night of celebration, networking and entertainment.
CPSA is pleased to have supported the event as sponsor for the Most Innovative Use of an Existing Technology category, won by APEM and United Utilities. Congratulations to APEM's Stuart Clough and United Utilities' Dave Champness seen collecting the award from CPSA Director Stuart Crisp (left) and host Patrick Monahan (right).
Congratulations to all 2014 winners:
Carbon Reduction Initiative of the Year: Thames Water
Community Project of the Year: Northumbrian Water Group
Customer Satisfaction Initiative of the Year: United Utilities
Data Project of the Year: Wessex Water
Engineer of the Year: Anthony Thomas, 4Delivery
Health & Safety Initiative of the Year: Thames Water
Most Innovative New Technology of the Year: Severn Trent Water, Echologics and Loughborough University
Most Innovative Use of an Existing Technology: APEM and United Utilities
Partnership Initiative of the Year: Southern Water, PN Daly and RPS Water
People Initiative of the Year: Balfour Beatty
Sustainable Drainage & Flood Management Initiative of the Year: Morgan Sindall plc, Dŵr Cymru Welsh Water & Ove Arup
Water Resource Mananagement Initiative of the Year: Balfour Beatty
Outstanding Innovation 2014: Severn Trent Water,Echologics and Loughborough University
Outstanding Individual Contribution to the Water Industry: Geraint Williams, Dŵr Cymru Welsh Water
Read more
---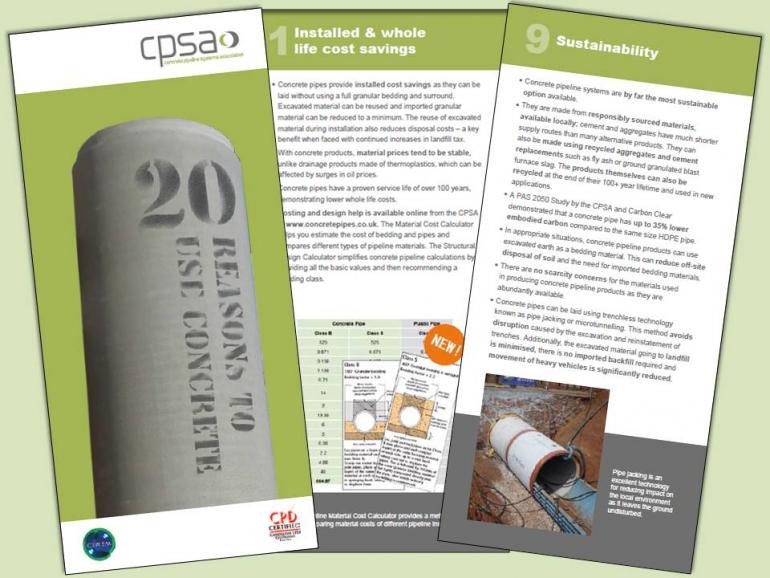 Updated: 20 Reasons to use Concrete booklet This revised CPD and CIWEM certificated booklet identifies advantages of concrete pipeline systems over other materials and why they are the most suitable choice in the short and long term. New information has been added following changes in Standards, legislation, introduction of new innovations and the development of a range of precast concrete SuDS components. Free copies are available as part of the CPD seminar programme or you can download a copy now.
Read more
---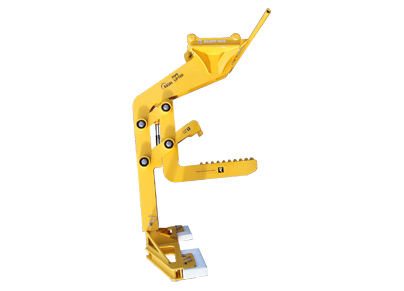 CPSA is pleased to announce the introduction of a new Type 2 concrete pipe lifter, suitable for offloading and installing larger pipes DN1350 to DN2000. The Type 2 lifter is available from, Klepp Mek AS, a manufacturer working in collaboration with CPSA and Basal, a Norwegian supplier of concrete water and drainage products.
Klepp Mek's contact details can be found on the main concrete pipe lifter web page
Watch the video
Read more
---