Notice: This news piece was created prior to the formation of the British Precast Drainage Association.
New infographic on SuDS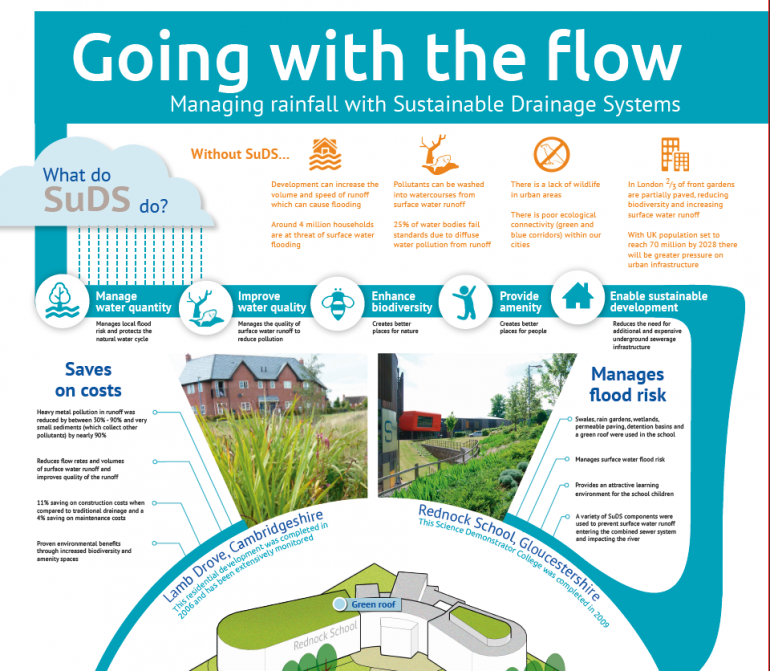 Spring 2015 heralds major changes in the UK for the delivery of Sustainable Drainage Systems (SuDS). Recognising this, CIRIA's Susdrain project has launched a new infographic on SuDS that provides a simple overview of the drivers and benefits. The 'Going with the flow' infographic details some of the key objectives and outcomes from a sustainable drainage approach. This includes improvements to local flood risk management, water quality, landscape amenity, and biodiversity.
The infographic is based on four case studies from both new build and retrofit examples, which demonstrate what can be achieved with early engagement and appropriate design. The case studies highlight how SuDS can manage local flood risk, enable savings in construction costs and deliver great places and spaces.
You can download the infographic here
CPSA is a Supporter of the Susdrain project, which provides a valuable range of resources for those involved in delivering SuDS. The website, www.susdrain.org, together with face-to-face seminars provides a community for sharing information, guidance and experience supporting SuDS delivery.
Published on 30th November -0001