FP McCann concrete pipes offer cost and carbon effective solution to M42 link road project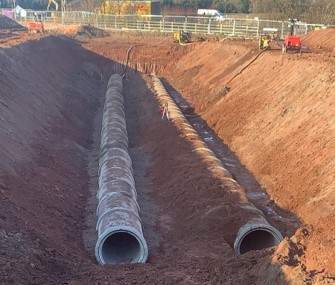 DN1200 concrete pipes, from FP McCann, were used recently to offer protection for mains water diverted as part of a new road link scheme in the M42.
The road link, at junction 6 of the M42 near Solihull, is part of a main £143M contract with Highways England being delivered by Skanska. The project, which started in 2021, is expected to significantly reduce traffic congestion at peak hours.
The diverted mains water were being installed at significantly deep depths, 6 metres under the new road, requiring protection. Severn Trent and their strategic alliance partners Amey employed the services of specialist utilities civil engineering contractors G&V Gallagher to carry out the job. The team decided to employ concrete pipes as a protective sleeve for the mains water pipes being diverted. The DN1200 concrete pipes, procured via builder merchants Wolseley and supplied from FP McCann's Ellistown factory in Leicestershire, were the obvious choice due their resilience and ability to withstand significant loads, compared to lightweight alternatives. Two 70 metres long runs of concrete pipes were installed. The backfilling for the DN1200 pipeline used "as dug" material and a "Class B" bedding, a type of bedding which can achieve up to 50% savings in granular materials, leading to significant carbon savings compared to the full surround Class S bedding.
G&V Gallagher director Vivian Gallagher noted that they chose FP McCann's large diameter 1200mm pipes
"… as the inherent strength and below ground loading capabilities of reinforced precast concrete gives them a distant advantage over large diameter plastic pipe alternatives"
.
Published on 12th May 2022