\
Transport, Handling & Installation
---
Transport, Handling & Installation
British Precast Drainage Association member companies undertake through their hauliers to deliver products in a safe and secure manner. The recipients of such deliveries have a responsibility to ensure that they have full knowledge of all aspects of the delivery and to make sure that the offloading operation is carried out safely with minimal risk to all parties.

Pipe Laying and Lifting
Concrete pipes and ancillary products are available with special lifting points, designed for safe transporting, pipe laying and jointing. British Precast Drainage Association members have introduced a new pipe lifter, designed to improve site safety and speed up installation. The pipe lifter removes the need for operatives to be placed on the back of vehicles, eliminating working at height during offloading of deliveries. The lifter also enables pipes to be quickly and securely lifted, provides easy access to apply joint lubricant prior to positioning in the trench and then releasing the pipe once it is properly jointed.
Pipe Laying
Before lowering into the trench, each concrete pipe unit should be inspected carefully for any damage which may have occurred in transit or during handling and storage on site. Pay special attention to jointing surfaces. Whilst pipe laying, units should be lowered carefully into the trench with tackle suitable for their weight and for the depth of the trench. Avoid anyone standing on the bed of the vehicle during offloading as this is the biggest cause of accidents during pipe laying.
The contractor should have all material and equipment necessary at the required time when carrying out pipe laying in accordance with the specification and statutory safety requirements. When pipe laying, the contractor must ensure that the size and strength class of pipes or other units conform to the contract specifications and manufacturer's recommendations. In the case of integrated gaskets, the joint must be prepared i.e. correct lubricant applied and removal of the gasket positioning strip.

Manual Handling
Lighter weight products made from other materials may initially appear easier to use and some suppliers have suggested that these items can be used without the need for mechanical lifting equipment.

In fact, according to Health & Safety Executive guidance on weight limitations for manual handling, many lighter weight products are in excess of the upper limit for safe lifting. In many cases, this means that HSE guidelines and Safety Best Practice are not being followed and the use of "light weight" as a marketing tool could lead to lack of appropriate risk assessment and safety management on site. The British Precast Drainage Association's Information sheet on Manual Handling offers information on this.
Related Videos: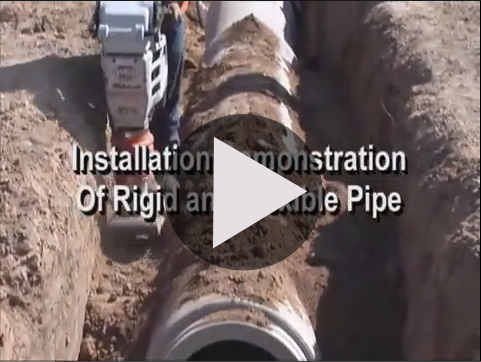 ACPA installation comparison video
The american Concrete Pipe Association (ACPA) invited engineers to a live side-by-side installation of concrete and plastic pipes. The video demonstrates the main time differences between both pipe systems based on standard USA best practice.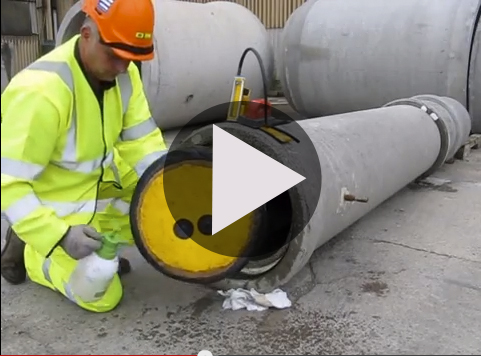 Air test video
Video showing the correct method and equipment to use when air testing a concrete pipeline.