\
Precast Concrete Manholes
---
Precast Concrete Manholes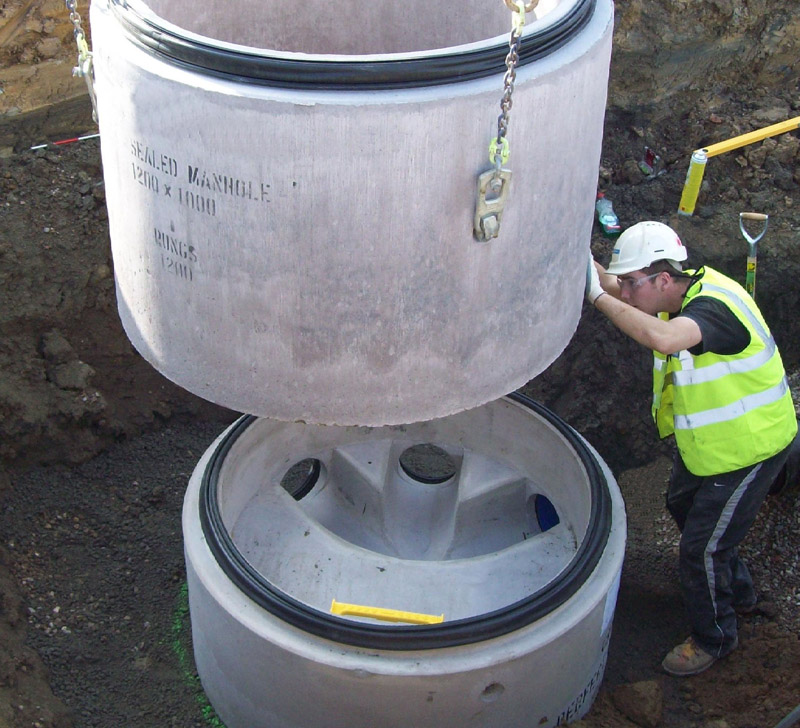 What is a concrete manhole?
Precast concrete manholes are an access chamber designed for man-entry. They are used to inspect and maintain an underground utility network, such as a drainage system.
Manholes are typically located at changes in direction, size and gradient of drainage pipework and are separated at distances that enable work to be carried out efficiently. Manholes may also be sited at boundaries and other demarcation positions and where there are changes in traffic loading along the length of a pipeline.
An effective manhole needs to be safe, quick and efficient to install and remain watertight and structurally sound over a long asset life.
Precast manhole base systems are supplied with circular bases pre-configured with main channel, benching, inlet(s) and outlet. Chamber rings are manufactured with thicker walls and the system provides a high quality offsite solution, reducing construction cost, installation time, environmental impact and improving performance.
Why use precast concrete manholes?
Precast concrete is strong and durable, providing asset owners with low whole life costs and a proven service life of more than 100 years.
Concrete manholes can be designed to withstand full highway vehicular loadings and are constructed with the cover slab bearing directly onto the walls of the chamber. The cover slab does not require expensive additional construction to isolate it from the chamber wall and there is no need to provide alternative support from traffic loads.
The self-weight of concrete provides natural resistance to flotation during flooding and in high groundwater.
Concrete manholes are resilient against damage from high pressure water jetting, a commonly used process for cleaning and blockage removal.
Precast concrete manholes are a low carbon, sustainable product made from local materials that can be recycled end of life.
For more information about Precast Concrete Manholes, please contact a BPDA member.