\
Precast Concrete Headwalls
---
Precast Concrete Headwalls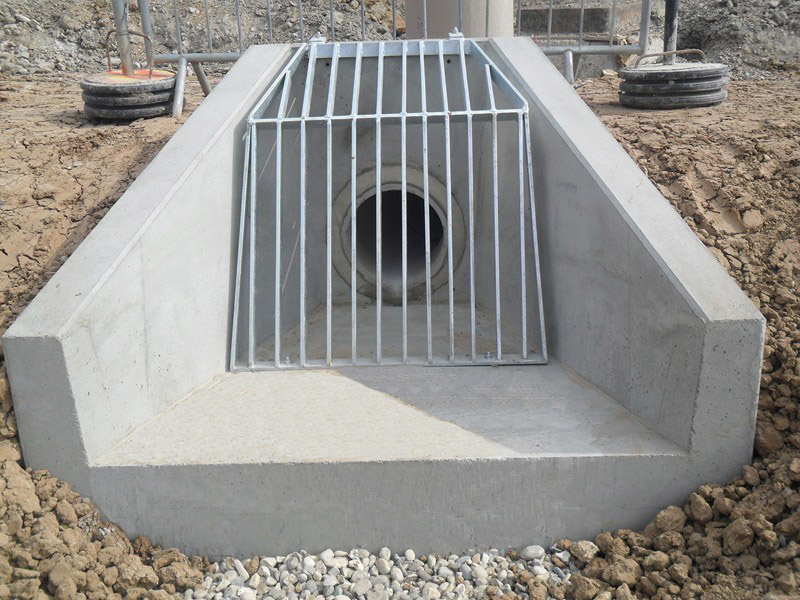 What are Concrete Headwalls?
A concrete headwall is typically an outlet from a sewer that allows flow from upstream pipework to discharge into an open watercourse, such as a river, pond, swale and culvert.
Concrete headwalls may also be used as inlets to surface water management systems receiving flow from a watercourse or open channel and conveying the flow downstream through an underground pipe.
Why Use Precast Concrete Headwalls?
Precast concrete Headwalls adopt offsite manufacturing principles.
They are safer to construct than in-situ build and can be placed into position quickly, reducing construction time and installation cost.
The advantage of reduced construction time often translates into installed cost savings.
Removes the need for digging out extensive areas of embankment. An in-situ build can require extensive infrastructure such as temporary formwork and shuttering. Precast concrete Headwalls are thus more environmentally sensitive.
They can be supplied to fit pipes of varying materials and sizes.
Precast concrete is strong and highly durable, providing asset owners with a reassuringly long service life and low whole life costs.
Precast concrete is a low carbon, sustainable material made from local materials that can be recycled at the end of life.
For more information about precast concrete Headwalls, please contact a BPDA member.