Notice: This news piece was created prior to the formation of the British Precast Drainage Association.
Winter 2010/2011 Issue of "Pipeline"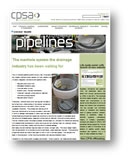 The new Winter 2010/2011issue of "Pipeline", the CPSA online newsletter, is now available at our website (here). This issue focusses on the new precast base manhole systems manufactured by three of the UK's concrete pipeline products manufacturers. A number of case studies with information on use, installation and overall benefits are included. Our Winter issue also offers news on a number of our activities and publications in the last 12 months.
Published on 30th November -0001