Notice: This news piece was created prior to the formation of the British Precast Drainage Association.
Water Industry Achievement Awards 2014 - Winners announced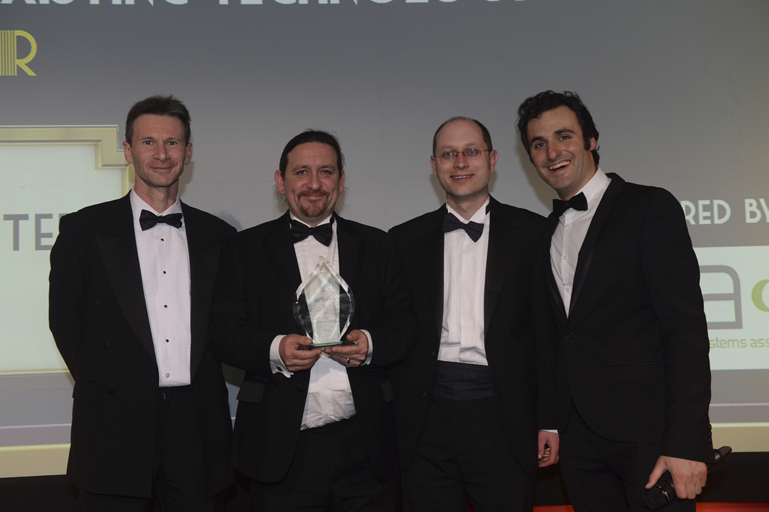 The largest and most prestigious Water Industry Achievement Awards to date took place on Tuesday 1st April where 470 of the water sectors finest came together at the Hilton Birmingham Metropole for an outstanding night of celebration, networking and entertainment.
CPSA is pleased to have supported the event as sponsor for the Most Innovative Use of an Existing Technology category, won by APEM and United Utilities. Congratulations to APEM's Stuart Clough and United Utilities' Dave Champness seen collecting the award from CPSA Director Stuart Crisp (left) and host Patrick Monahan (right).
Congratulations to all 2014 winners:
Carbon Reduction Initiative of the Year: Thames Water
Community Project of the Year: Northumbrian Water Group
Customer Satisfaction Initiative of the Year: United Utilities
Data Project of the Year: Wessex Water
Engineer of the Year: Anthony Thomas, 4Delivery
Health & Safety Initiative of the Year: Thames Water
Most Innovative New Technology of the Year: Severn Trent Water, Echologics and Loughborough University
Most Innovative Use of an Existing Technology: APEM and United Utilities
Partnership Initiative of the Year: Southern Water, PN Daly and RPS Water
People Initiative of the Year: Balfour Beatty
Sustainable Drainage & Flood Management Initiative of the Year: Morgan Sindall plc, Dŵr Cymru Welsh Water & Ove Arup
Water Resource Mananagement Initiative of the Year: Balfour Beatty
Outstanding Innovation 2014: Severn Trent Water,Echologics and Loughborough University
Outstanding Individual Contribution to the Water Industry: Geraint Williams, Dŵr Cymru Welsh Water
Published on 30th November -0001