Notice: This news piece was created prior to the formation of the British Precast Drainage Association.
Water Footprinting of Wastewater Pipelines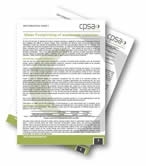 A comparison between concrete and plastic pipes shows that the water footprint of a concrete sewer pipe is between 2.6 to 6.7 times lower than an equivalent size plastic pipe. Download here.
Published on 30th November -0001