Notice: This news piece was created prior to the formation of the British Precast Drainage Association.
Updates to online calculators plus new App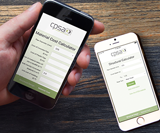 Two of our most frequently accessed online tools – our Structural Design Calculator and our Material Cost Calculator - have been updated to make it even easier to select the most appropriate and economical sewer pipeline solution. At the same time we are launching a downloadable App, providing access to the Calculators for people on the move, available from the Apple Store and the Google Play store.
To help designers and installers select the most economical buried pipeline solution the Concrete Pipeline Systems Association (CPSA) has updated two of its key online resources: the Structural Design Calculator and the Material Cost Calculator. The Association has also introduced a downloadable web App, to enable users to replicate the online calculators on portable devices.
The changes to the online calculators have been introduced to further simplify the calculation process and to improve the user experience.
The CPSA's Structural Design Calculator is a source of expertise for the structural design of concrete sewers. It simplifies concrete pipeline design calculations based on the recommendations in the standard BS EN 1295-1 Structural design of buried pipelines under various conditions of loading. The Calculator takes into account external design loads, pipe crushing strength and bedding factors to offer advice on the type of bedding to use.
The recent updates now enable the Structural Design Calculator to automatically select the correct factor of safety used in the calculations according to pipe size and construction, based on British Standard BS 9295: 2010. In addition, the results table produced by the Structural Design Calculator can now be exported to a pdf file, an Excel file and to the CPSA's Material Cost Calculator.
The Material Cost Calculator was developed by the CPSA to help designers and installers estimate the material costs for concrete pipe installations using different bedding designs and to make a comparison with plastic pipes. The calculation includes the cost of bedding, infill material and that of the pipes, seals and fittings.
Updates to the calculator give users the option of entering their own values for the bulk density of excavated material and granular backfill, or the default values can be used if project-specific data is unavailable. In addition, further data has been added to the results table to illustrate how the calculations are put together, for example it includes a value for the depth of initial granular backfill for Class S installations. As with the updated Structural Design Calculator, results can now be exported to a pdf file and an Excel file.
To check out the online calculators go to:
www.precastdrainage.co.uk/calculators/structural-design
www.precastdrainage.co.uk/calculators/material-cost
In addition, a new web App replicates the online calculators and has been optimised for portable devices. The App is available from the Apple Store and the Google Play store.
Published on 30th November -0001