Notice: This news piece was created prior to the formation of the British Precast Drainage Association.
The Carbonation of Concrete Pipeline Products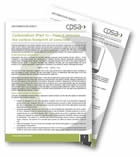 CPSA has published a new Information Sheet which looks at how carbonation can have a positive impact on the carbon footprint of concrete pipeline products. The Information Sheet, entitled "Carbonation (Part 1) How it Reduces the Carbon Footprint of Concrete", shows that the amount of CO2 absorbed can effectively reduce the cradle-to-gate carbon footprint of a concrete pipes by almost 10%. The carbon emissions of concrete pipes can therefore look markedly different if such factors are included in the carbon auditing process.
Published on 30th November -0001