Notice: This news piece was created prior to the formation of the British Precast Drainage Association.
New concrete pipe joint integrity factsheet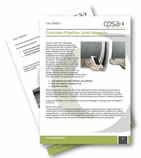 EN 1916:2002 "Concrete pipes and fittings, unreinforced, steel fibre and reinforced" is the only product Standard for gravity sewer pipes to include a requirement for joint durability. This Factsheet explains how joints in concrete pipes are designed to remain watertight over the long (100+ years) design life of the sewer and whilst doing so, achieves a high contact pressure in the seal to resist root penetration.
Download here
Published on 30th November -0001