Marshalls Civils and Drainage and Keyline take flatpacks to new heights for Scottish Water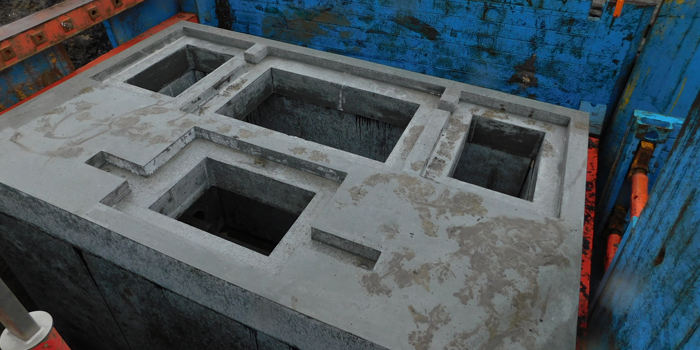 Precast concrete CSO is the preferred option for Amey Black & Veatch.
A flatpack precast concrete CSO chamber from specialist manufacturer Marshalls Civils and Drainage has enabled contractor Amey Black & Veatch to finish part of a £3 million project faster for Scottish Water in Paisley.
Marshalls Civils and Drainage supplied the CSO comprising eight separate components - four external walls, a two-piece split base, a centre weir wall and a single cover slab – for the project at Buchlyvie Road, Ralston, via Keyline Builders Merchants in Glasgow.
As well as the CSO installation, the works involved an APRNV chamber, new manholes and associated pipework as part of Scottish Water's improvement to its waste water infrastructure in the town to help improve the water quality and natural environment in local rivers.
The installation of better screening and new pipework will also improve the environment on local water courses, and in turn the River Clyde, benefiting aquatic life, flora and fauna.
To meet the strict quality requirements of the project, Amey Black & Veatch specified the CSO chamber from Marshalls Civils and Drainage to reduce excessive flows into the sewer during periods of high rainfall.
Marshalls Civils and Drainage can custom-design a CSO to suit specific wastewater treatment and sewer needs. Depending on the size of the sewer and flow specifications, a number of options range from one-piece chambers to larger flat-pack arrangements.
At Buchlyvie Road, the components were supplied by specialist distributor Keyline with whom Marshalls Civils and Drainage has a framework agreement. They were delivered to site and installed by specialist sub-contractor Clean Tech.
Assembly comprised installation of the base slabs on a prepared surface founded at a formation level of 3.24m below ground, followed by the four walls, bolted together at the corners, and weir wall. Joints were sealed with rubber seals and grouted. The finished CSO chamber measured 3.6m x 2.05m x 2.59m deep.
Compared with conventional CSOs built using either in-situ concrete or traditional brick, the modular precast concrete option is much quicker, safer and easier to install and, because the components are manufacturer off-site in controlled factory conditions, finished quality is very high.
Marshalls Civils and Drainage offer a range of SUDS solutions, as part of their water management precast systems, to combat the effects of surface and flood water.
"The precast units used offered a quality finish, the installation was simple and the ease of installation assisted in delivering the CSO according to the programme," said Amey Black & Veatch project manager John Townshend.
"We have used Marshalls Civils and Drainage precast products many times in the past and always found them easier and faster to install than alternative methods. We now specify precast in preference to other options for structures such as CSOs."
Published on 27th May 2021