Notice: This news piece was created prior to the formation of the British Precast Drainage Association.
Life made easier with launch of new CPSA web site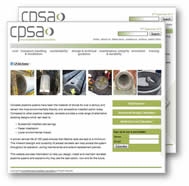 The revamped CPSA site now offers easier navigation, useful new material and improvements to the popular on-line Calculators for Structural Design and Material Cost comparisons.The site provides vital information relating to installation and operating costs of pipeline systems; transport, handling & installation; design & technical guidance; maintenance, integrity & durability; sustainability; innovation and details of CPSA's CPD accredited training programme. The site contains a wealth of information on all aspects of pipeline system design, installation and operation with a full library of freely available downloads. CPSA also offer a useful eNewsletter designed to keep industry professionals up to date with recent developments. You can register via the CPSA web site.
Published on 30th November -0001