It's a winner! Latest pipe jetting resistance test proves Precast Concrete Pipes as most reliable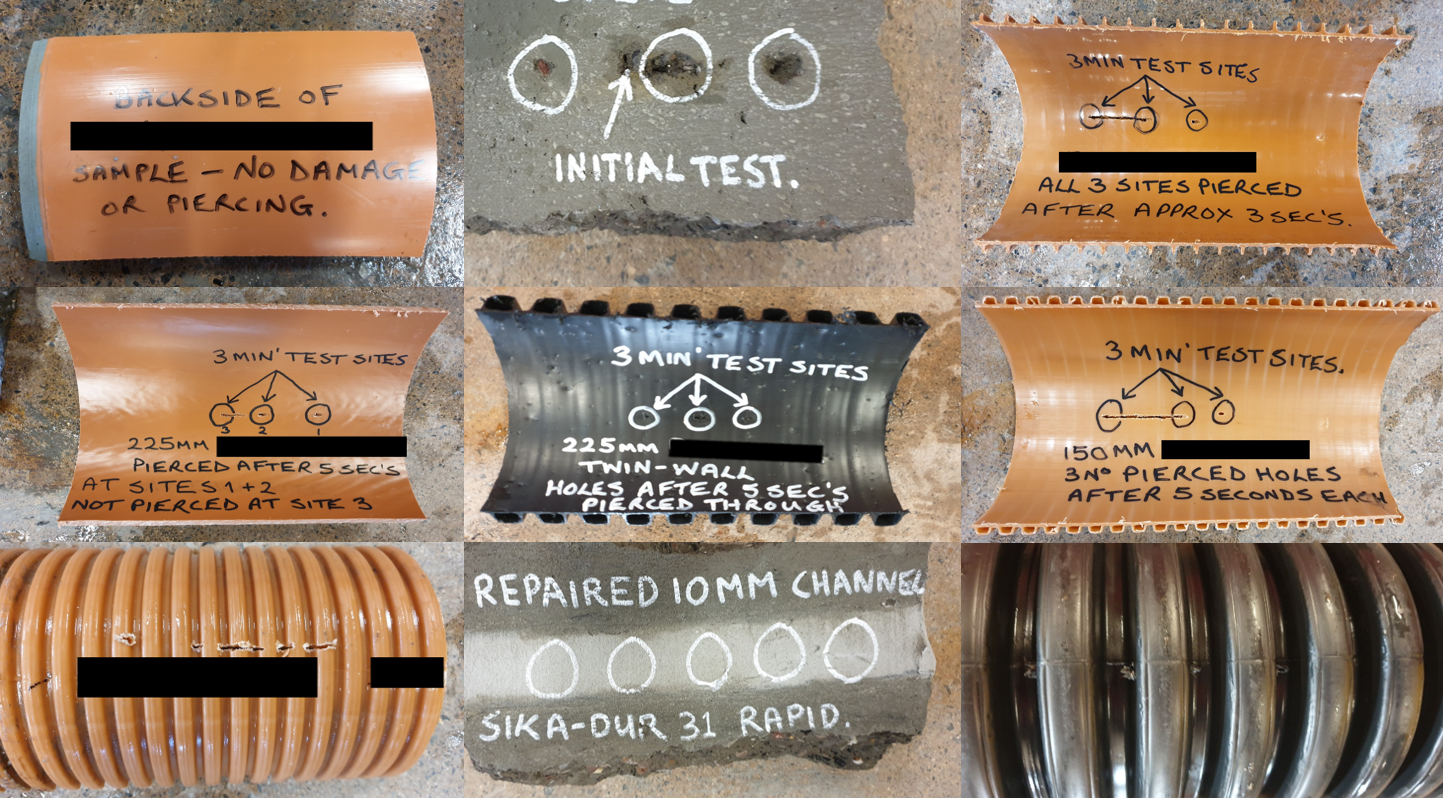 Compared to various plastic pipe alternatives, concrete pipes are more likely to withstand a blockage clearance operation requiring 4,000 psi water jetting, a typical high‐pressure jetting range used regularly by contractors to clear some of the most challenging sewer blockages. This is according to results from a series of jetting resistance tests published by BPDA. On the other hand, it could take no more than 3 to 5 seconds for some plastic pipe alternatives to experience irreversible piercing damage when cleaned at the same water jetting pressure.
BPDA carried out a series of high-pressure stationary water jet tests in late 2019. Eight samples of concrete and plastic pipes were included. The tests were carried out with a jetting pressure of 4,000 psi, a water jet pumping pressure range not recommended for all types of pipes but frequently used by cleaning contractors to clear some of the most challenging sewer blockages involving fatbergs, wipes, rags and tree roots.
As a precaution, and to avoid damage from high-pressure jetting, the Manual of Drain & Sewer Cleaning advises that the jetting nozzles should not be kept stationary at one single spot for more than 90 seconds. It was, therefore, reasonable to expect some resistance from all types of pipes (including plastic) to high-pressure stationary jetting that would last for at least 30 to 60 seconds. However, in almost all plastic pipe samples tested, this was not the case. Four of the six plastic pipe samples all experienced significant internal layer piercing damage inside 5 seconds. The pipe walls in all four samples were fully penetrated within a few seconds. One sample experienced significant internal layer piercing damage inside 3 seconds only, raising fears that any potential blockage clearance where high-pressure jetting is the only option may result in permanent damage and replacement or rehabilitation for such types of pipe.
The other two plastic pipe samples, currently being advertised as resistant to 4,000 psi jetting, also experienced significant piercing damage to the inner surface within 5 to 60 seconds. In both samples, the jetting water dispersed through the core material within the pipe wall, exposing the recycled core material and raising blisters on the inner surface. All the concrete pipe samples tested passed the test.
Colin Richardson, President of BPDA, noted that these test results should serve as warning to the industry about the risks of deregulation. The new Water industry sewers adoption code no longer allows water companies to impose their own restrictions and rules on sewers adoption. At least three Water Companies used to restrict adoption to sewerage pipes that can resist high-pressure water jetting up to 4,000 psi. "Every year, Water Companies deal with up to 300,000 sewer blockages across Britain", he noted, "it is fully acknowledged that consumer's behaviour needs to change. But there is more that we can do as an industry to ensure that our sewerage systems are capable of withstanding the implications of a sewer blockage clearance". Colin Richardson believes that all Water Companies need to introduce strict limits to pipes' jetting resistance.
Results of the test report can be found
here
.
Published on 5th March 2021