Notice: This news piece was created prior to the formation of the British Precast Drainage Association.
CPSA SHORTLISTED FOR THE GROUND ENGINEERING AWARDS 2016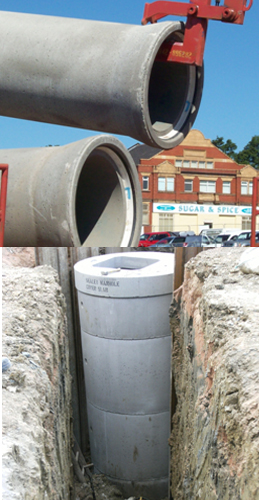 The Concrete Pipeline Systems Association has been shortlisted as a finalist in two awards categories at this year's Ground Engineering Awards:
The Concrete Pipe Lifter has been shortlisted in the Health and Safety category. This innovation was introduced by CPSA members to improve site safety and speed up installation by removing the need for operatives to be on the back of vehicles while offloading deliveries and within the trench during installation.
https://www.concretepipelifter.co.uk
The Circular Precast Concrete Manhole Base System has been shortlisted in the Sustainability category. The precast concrete monolithic base unit is supplied complete with channel and benching and predetermined combinations of inlet(s) and outlet. The environmental advantage of this solution is that it uses less concrete, particularly the need for a concrete surround is eliminated plus the design of a high performance watertight joint reduces the risk of leakage. An annual embodied carbon saving of over 22,000 tonnes of CO2e is estimated in the UK due to the elimination of the concrete surround if all manholes manufactured by members of CPSA changed to the new precast base system. Even more carbon can be saved through the reduction in pumping energy arising from the elimination of water infiltrating into the drainage system from leaking manholes.
https://www.precastdrainage.co.uk/page/innovation-concrete-manholes
This year saw a record number of companies entering the Ground Engineering Awards and editor Claire Smith commented:
"The range of projects, initiatives and innovations within this year's entries clearly demonstrate that the UK geotechnics industry is very active and growing, which is great to see. The volume of entries this year means that making it onto the shortlist for the 2016 event was no mean feat."
The winners will be announced on 30 June 2016 at a lunchtime ceremony at the Hilton Park Lane, London, where over 800 of the industry elite will join together.
Published on 30th November -0001