Notice: This news piece was created prior to the formation of the British Precast Drainage Association.
CPSA Newsletter "Pipeline" Autumn 2012 Issue out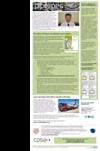 The Autumn 2012 edition of CPSAs eNewsletter Pipelines is now available. Click here for news on the latest edition of Sewers for Adoption, information on how to reduce the cost of pipeline installation and details on CPSAs innovation to improve site safety.
Published on 30th November -0001