Concrete & Cement sector roadmap to Net Zero Carbon published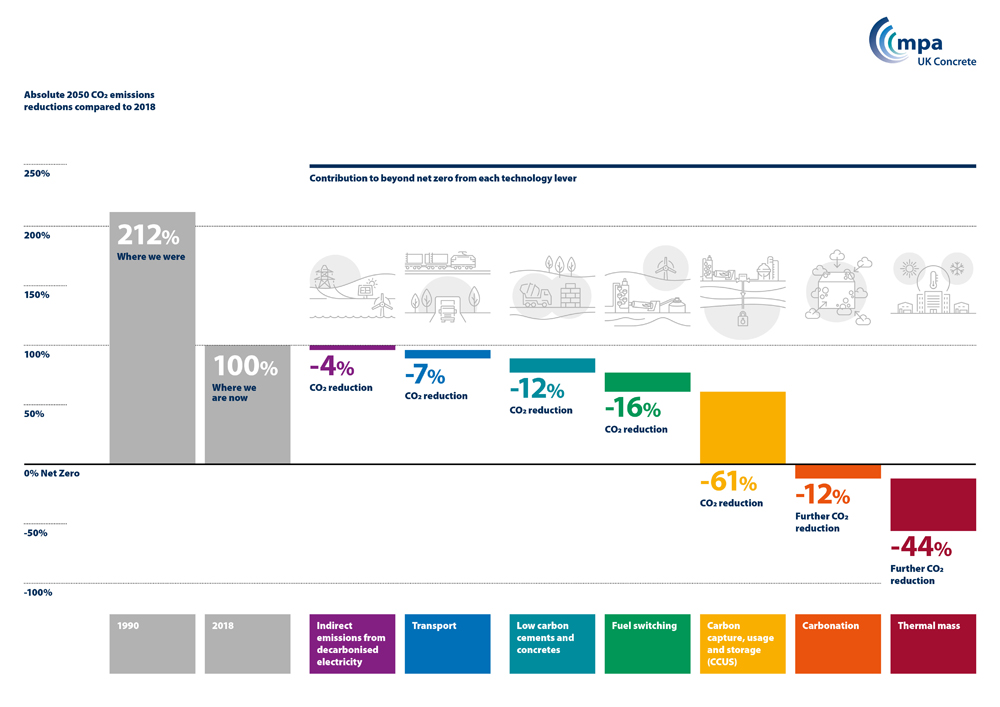 The UK concrete and cement sector has launched its roadmap to become a carbon- negative industry by 2050, removing more greenhouse gas from the atmosphere than it generates annually from the manufacture of concrete and cement.
The roadmap, launched under the Mineral Products Association's (MPA) concrete body "UK Concrete", introduces a decarbonisation path using a wide range of technologies such as Carbon Capture, Use or Storage (CCUS), fuel switching and investment in new types and blends of low-carbon cement.
The announcement comes after similar roadmaps and initiatives were launched by the Global Cement & Concrete Association (GCCA) and the European cement association Cembureau earlier this year.
The UK concrete and cement sector has already been successful in reducing their carbon emissions by 53% by 1990. One interesting fact about this roadmap is that it does not account for any offsetting of carbon (the process of buying carbon credits from other sectors/ processes to compensate for own emissions) or outsourcing of any manufacturing activities. The initiative has already won praise from Chris Stark, Chief Executive of the Committee on Climate Change (CCC).
The initiative was developed in consultation with all MPA product associations and groups, including the British Precast Drainage Association (BPDA). BPDA recently published a study looking at the Whole Life Carbon emissions associated with drainage and sewerage pipeline solutions. The study, based on a model developed by the ICE Database authors, Circular Ecology, proves that concrete pipes can have a significantly lower carbon footprint compared to plastic alternatives. BPDA is already building on that study, and the Net Zero Roadmap, to develop their own initiatives toward lower carbon precast drainage products and Net-Zero carbon by 2050.
Published on 19th October 2020