Notice: This news piece was created prior to the formation of the British Precast Drainage Association.
CASE STUDY FROM USA: WHO IS LIABLE FOR FLEXIBLE PIPE PROBLEMS? THINGS TO CONSIDER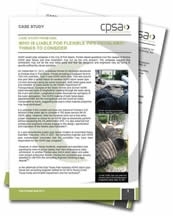 Examples are provided where collapses of HDPE pipes suggest that contractors may not be the only liable party. Some clients and designers are also failing to understand the risks and can be also liable if they do not specify and monitor sufficiently robust solutions.
A copy can be downloaded from here
Published on 30th November -0001