Notice: This news piece was created prior to the formation of the British Precast Drainage Association.
ACPA Installation Comparison Video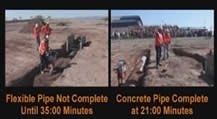 The American Concrete Pipe Association (ACPA) invited engineers to a live side-by-side instalation of concrete and plastic pipes. The video demonstrates the main time differences between both pipe systems based on standard USA Best Practice.
The video can be viewed from CPSA website here.
Published on 30th November -0001