\
\
Nottingham site requires high-capacity bespoke chamber
---
Nottingham site requires high-capacity bespoke chamber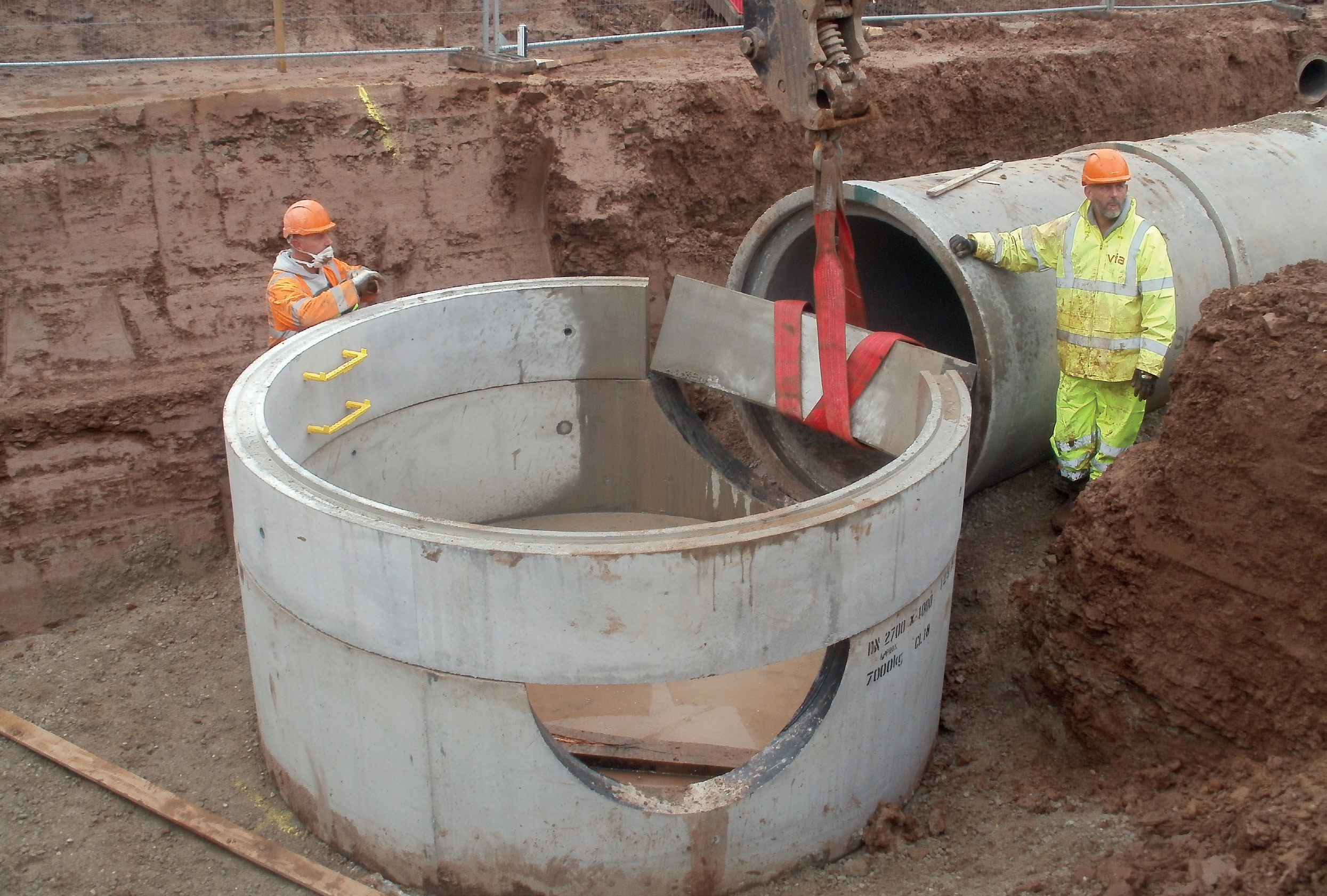 A high-capacity surface water management system, requiring a deep-chamber shaft, has been installed as part of advanced drainage works required to divert a number of open watercourses that lay in the path of the Gedling Access Road. This is a new 3.8km road in Gedling near Nottingham and is adjacent to a 1,000-home development.
The Gedling Access Road, which is being managed and delivered by Via East Midlands, a Nottinghamshire County Council owned company, delivering highways and engineering solutions in the County.
Given the anticipated volume of water involved, a 100m run of large-diameter pipes and a large central chamber were proposed to manage the flow. Designers proposed that pipe diameters of 900mm and 1,400mm were required, flowing into a central chamber of 2,700m diameter.
Adrian Peck, account manager at Keyline Civils Specialist, a framework supplier to Via, recommended Stanton Bonna Concrete to provide a bespoke solution, working with the drawings provided. To facilitate the entry of such large pipes, an adapted three-part precast concrete chamber ring and base was required.
Production was carried out at Stanton Bonna's works in Ilkeston, Derbyshire. Partial apertures were cut into two of the sections, which meant the chamber could be put in place before safely removing the centre section on site. This helped retain the structural integrity of this extra-large ring, whilst at the same time allowing for multiple pipe entries.
Via East Midlands originally considered a prefabricated plastic solution, but due to the depth and diameter of the chamber and weight of loadings, a complete plastic system was not possible. Precast concrete was selected as the more cost-effective option.
The new Gedling Access Road will support the 33-acre brownfield development of the former Gedling Colliery site and provide a bypass around the village of Gedling. It will also link to the region's road network and Nottingham city centre.
The advanced drainage works started in September 2019 and was time-critical due to the risk of wet winter weather in this flood-prone valley. From design to onsite delivery the works on the deep-chamber shaft and 100m run of large-diameter pipes took six weeks to complete.
Adrian Peck, midlands & northern region key account manager, Keyline Civils & Drainage said, "The team at Stanton Bonna were happy to rise to the challenge on this unusually high capacity water management system and delivered on time and in spec."
Rob Cannon, area sales manager - central region, Stanton Bonna said, "This was a challenging project given the high volume of water and complexity of the existing watercourses. We are pleased that our bespoke option, using large-diameter manhole chambers together with precast concrete pipes, provided a long-term flood management solution to help deliver this important development."