\
\
Constant flow of manholes supports St Neots expansion
---
Constant flow of manholes supports St Neots expansion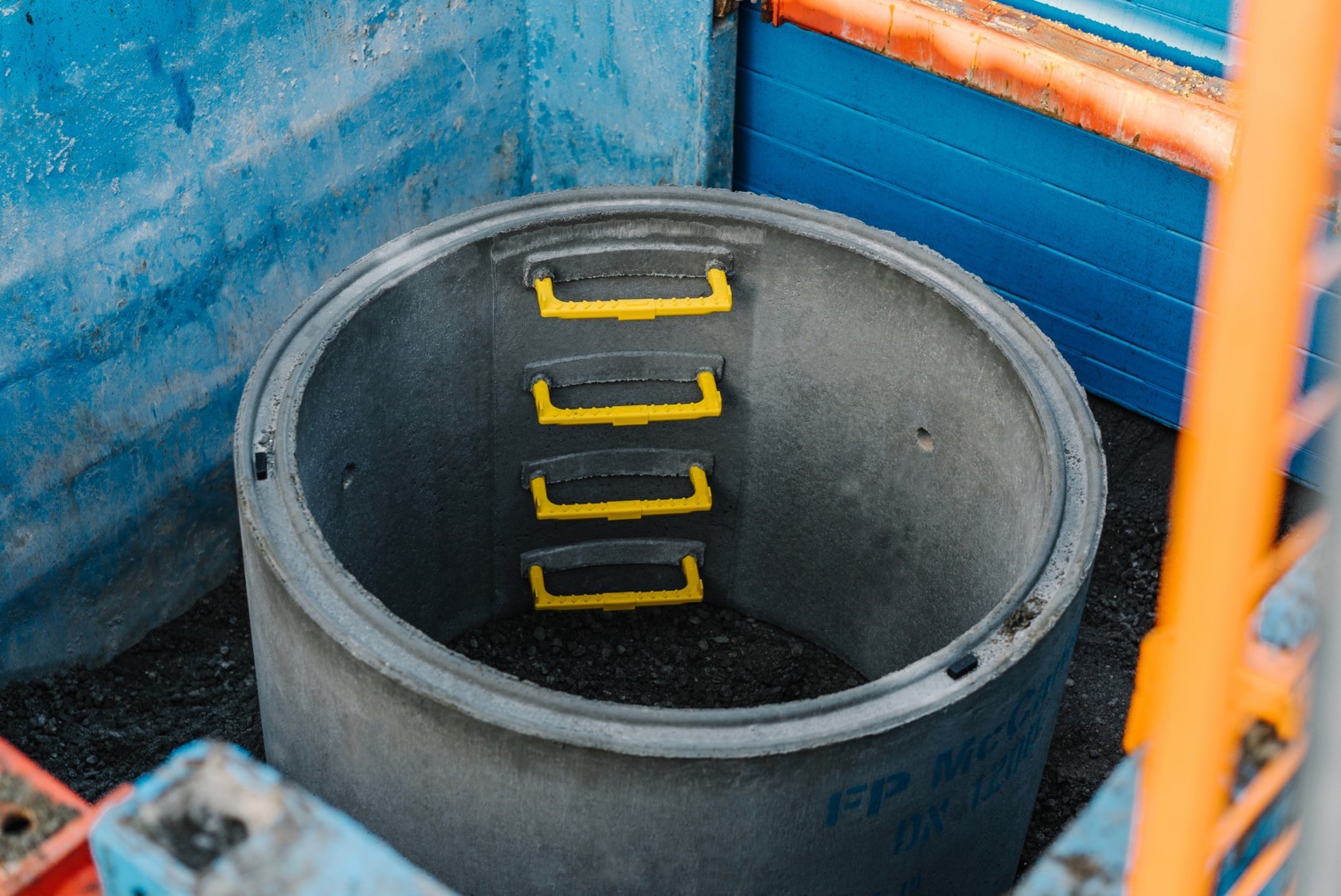 FP McCann's precast concrete manholes have been used in the drainage network
installed on the first phase of a new housing and community development in
Cambridgeshire. Wintringham forms part of the Eastern expansion of the town of
St Neots and will eventually see the building of some 2,800 new homes, community
facilities, schools and commercial properties.
The first phase of the project is being managed by one of the landowners and development partners, Urban&Civic. The main contractor, Breheny Civil Engineering is responsible for the enabling works and utilities' connections on the first phase, which relates to approximately 800 building units.
Breheny was asked by sewerage undertaker Anglian Water to specify exactly which manhole bases were precast concrete and which were being installed in the traditional way on the planning documents. FP McCann's in-house team created orientations of each manhole, showing the precise specification of pipe entries and any changes in level.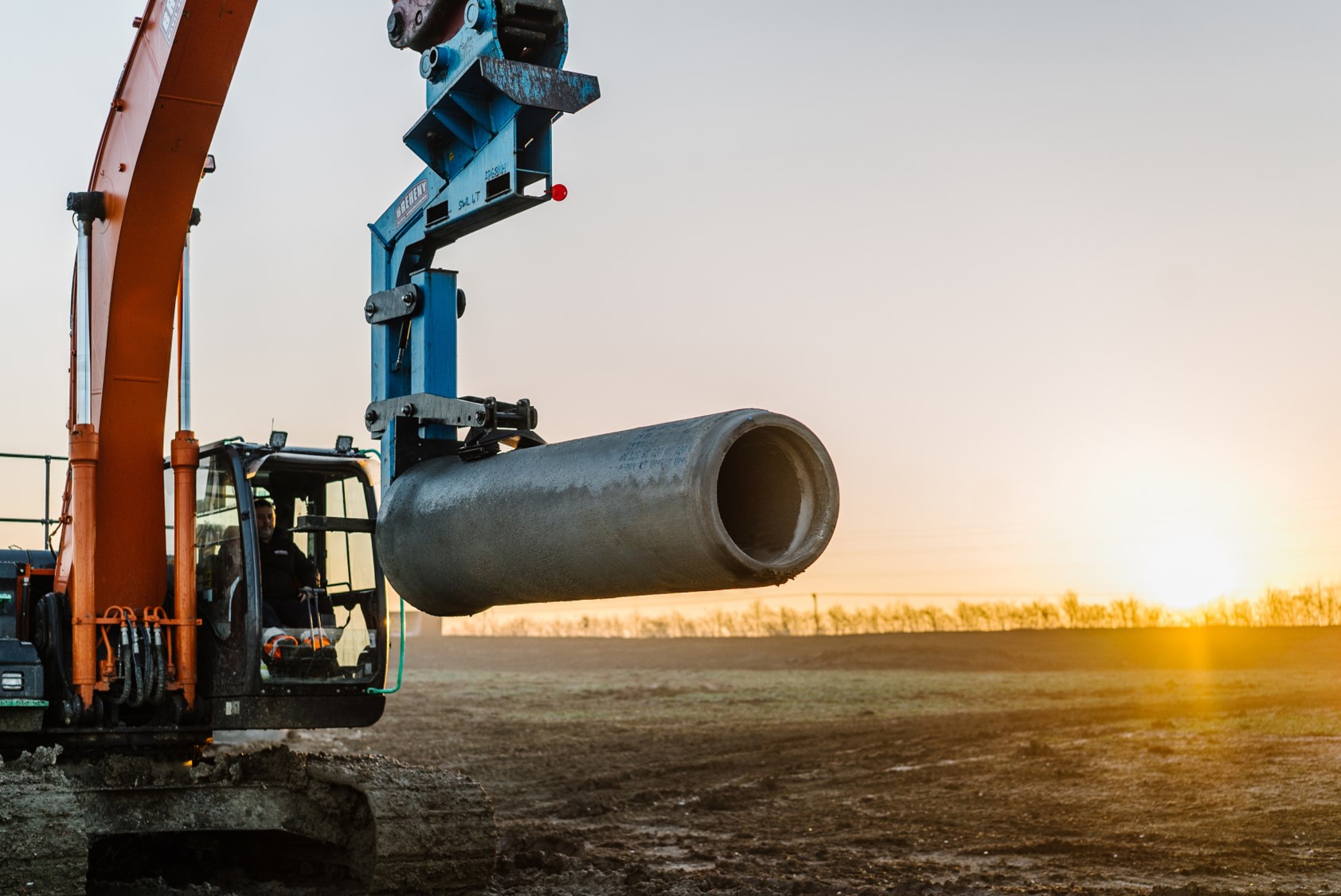 Altogether 125 manholes were required as part of the drainage installation for the first phase of works and 70% were suited to precast concrete systems. FP McCann is the preferred precast concrete drainage supplier to Breheny and the manufacturer delivered the manhole chamber rings and proprietary pre-formed Easi-Base manhole bases to site from its factory in Leicestershire.
Most of the drainage and the manhole chambers are now in place. FP McCann maintained a constant flow of pipe and manhole deliveries, and turnaround from placement of an order to delivery on site was two to three weeks.
Four or five large loads were delivered to site each day during the works, with logistical efficiency optimised by shipping precast manholes, pipes and other components aboard the same vehicles. Once delivered, the Breheny team ensured productivity levels were maintained over the expansive area throughout the works.
FP McCann delivered 16no. 1800mm Easi-Base wide-wall manhole chamber systems and 3no. 1500mm Easi-Bases, along with standard chamber rings sized at 2100mm and 2400mm diameter and cover slabs from 1200 to 2400mm. Some 283 pipes, ranging in diameter from 375 to 1050mm have been supplied along with the sealed sump 1200mm catchpit unit, which is also being used.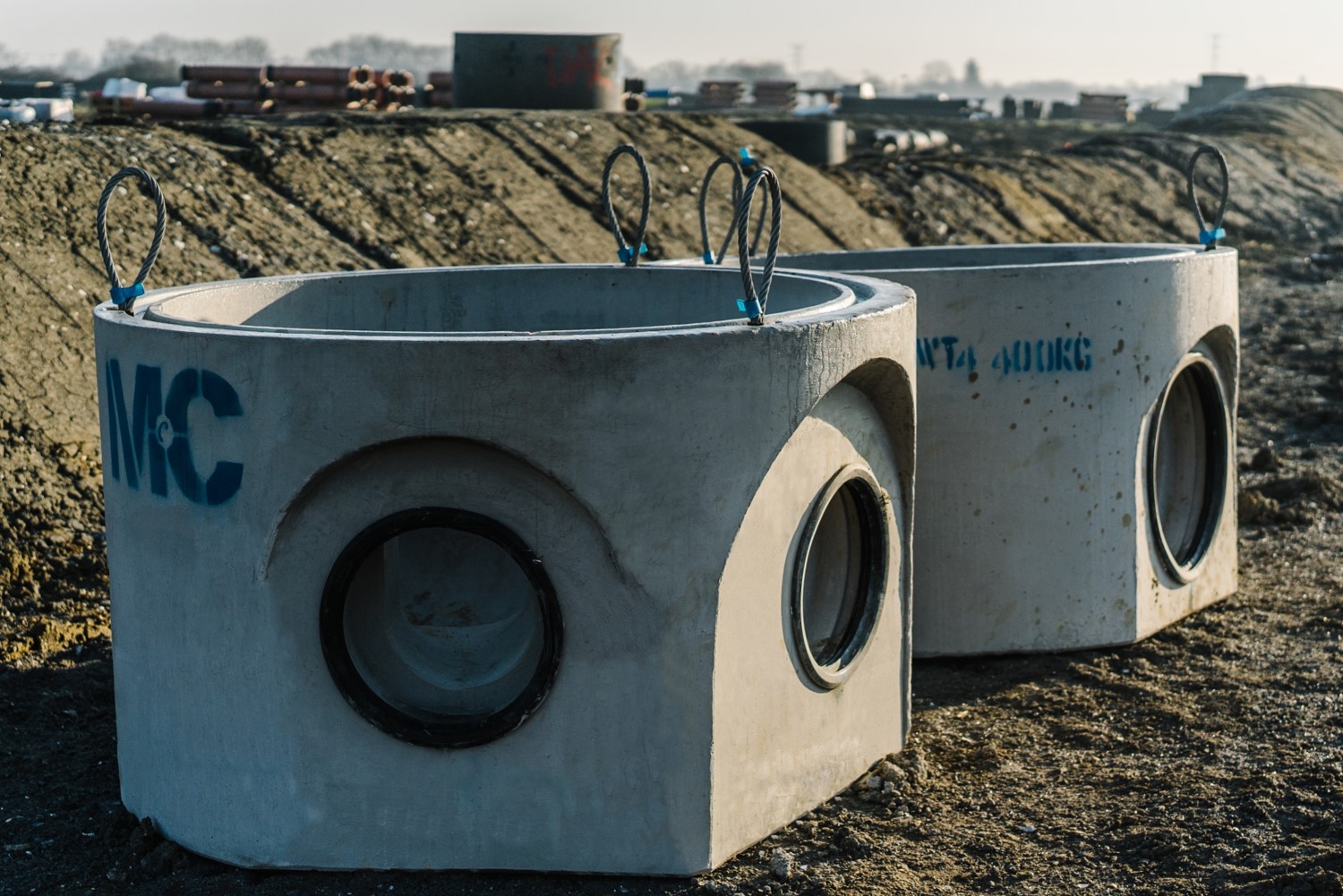 A mechanical pipe-lifting system was employed for unloading and maneuvering the precast concrete components around the site, as well as placing them in trenches. The system can be quickly hitched to any 360 excavator and is a safe and efficient means of off-loading pipes and manholes.
Each manhole installation can vary depending on ground conditions, accessibility and presence of groundwater. However, at Wintringham conditions were quite straightforward and the works were carried out by five drainage gangs all working on separate parts of the system. Installation followed standard procedure, with excavation of the position for the manhole and the base works put in place to support the system. Shingle was placed at the foot of the chamber hole to level up the base.
The base was then dropped in and the rest of the manhole built up out of separate components. Manhole depth depends on the orientation of each installation and the deepest at Wintringham was 8.5m. Manhole installations were carried out through the winter months from mid-November 2018 to the end of April 2019.
Commenting on the site preparation to date, Matt Bruce, site agent for Breheny says, "The early enabling and drainage works at Wintringham are nearing completion. The steady flow of precast concrete drainage products from FP McCann meant work on site proceeded uninterrupted throughout this first phase."
Kieran Fields, marketing manager, FP McCann said, "Using a high proportion of precast manhole systems at Wintringham meant the drainage infrastructure could be built at speed, even during inclement winter conditions. In addition, the overall quality of the installation is more consistent as the products are made under factory conditions and delivered to site as they're required."