\
\
Box Culverts Protect Housing Development
---
Box Culverts Protect Housing Development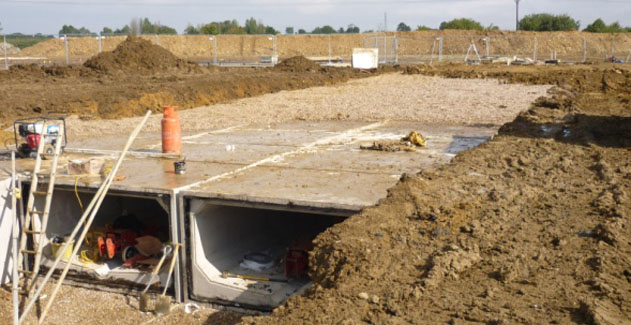 Some 600 precast box culverts from BPDA member Forterra form the large scale drainage system required by a brand new development of 374 homes in Lincoln.
Main Contractor: Daniel Charles Construction worked closely with Forterra's expert design team to create a system which takes surface water run-off from the development, channels it through control chambers and then holds it in three large storage tanks, before being discharged to a drainage ditch alongside the nearby A46.
Steve Wright, Quantity Surveyor for construction specialists Daniel Charles, said, "This site was tricky to access in the initial stages of the installation, particularly as each of the box culverts weighed more than eight tonnes. However, the delivery and application of the units went very smoothly."
The scheme was designed and installed over and eighteen-month period with the box culverts being installed in two stages. Each box culvert is two metres long and 1.2 metres wide, and are used to form runs of around 90 metres in length, out of site beneath the ground at Minster Fields. The drainage system as a whole is capable of accommodating almost two million litres of surface water from Minster Fields at any given time.
Tony Higgins, Construction Manager for end client Taylor Lindsey Homes, said, "We're very happy with the completed drainage system, which has performed well since its recent completion."